If you are on this page, you already have the proper conviction that trade shows are an excellent opportunity for your company to generate leads and become more recognizable among your target audience. 
That said, high attendance at your stand is the priority necessary to achieve your event goals. 
However, the exhibition mostly looks like a field of battle. You compete with many other exhibition participants for the visitor's focus. Guests will unwittingly compare you to other exhibitors: which product or service is the best, how your employees communicate with the visitors – and who wins this «race» will depend on how thoroughly you and your staff prepare for the show.
So, how do you draw visitors to your exhibition stand with strong competitors surrounding your stand and busy crowds of visitors "flowing through an ocean" of graphics, lights, and giveaways?
Here are the right ways to attract people to your trade show booth.  
Do your marketing before the show 
Contact the exhibition visitors before the event. First and foremost, these are your regular clients. Don't expect that the loyal customer will necessarily visit your event without an invitation. To attract him, think of marketing moves that can attract his attention: it can be the announcement of drawings or discounts on products. Attendance from your regular customers will help you attract the first visitors – the mechanism "crowd attracts a crowd" will work. It will also allow your loyal clients to feel how valuable they are to you. 
You can also check the list of exhibitors, which is often available on the website of the show organizer or upon request. Using this resource, start gathering information about exhibitors and potential clients. Connect with them through LinkedIn. After all, a successful exhibition presence involves making connections and engaging in conversation. 
Use social media to announce your participation in the show. Join online conversations using official event hashtags and follow any posts and comments you are competently replying to. Send out a newsletter, or even offer your customers to reserve time in your exhibition schedule for an in-person meeting. Many attendees plan their day and come up with a fixed schedule.
Publish a press release on industry platforms or in print media. If your stand will feature interactive games, free product presentations, hot drinks, or cold snacks, be sure to announce it. 
The more you announce your participation in the exhibition, the greater your chances of attracting more visitors to your show.
Choose the right booth location
A strategically placed stand can attract a dozen times as many guests. As a rule, the best locations for booths are next. Choose correct location is a good solution and you could see how to attract visitors to your exhibition stand.
Those close to the entrance, but not so close to it, can have the opposite effect. As you know, entry-exit locations are always crowded and chaotic. Given the volume of traffic in this area, guests may not feel comfortable standing at your stall to get more information about your company;
* Close to the crossroads of crowded streams. To maximize the effectiveness of such a location, it is recommended to think about the design of the stand so that it can be seen and accessed from any angle;
* Near "strategic" objects such as cafes and toilets. Proximity to these types is also an excellent location for your stand because there will always be people around these areas. These locations generate a lot of traffic and provide many opportunities for engaged visitors. Hungry attendees are the least active, while attendees who have already met their needs are more inclined to have new experiences.
Train and motivate your employees before the show
The recruitment and training process should be as thorough and thoughtful as the preparation of your booth. Ensure chosen employees are qualified and have the necessary knowledge and skills.
Your employees and how they behave with visitors will create the first impression of your company. They should have comprehensive information about your business, confidently present your products and services, and be friendly and approachable to the customer. They should also have clear instructions, developed in advance with you, on how to behave in certain situations and respond to visitors and potential customers. Having a professional but affordable uniform or dress code is also a great idea.
Be clear about your goals and let your employees know how the company will benefit from the exhibition. Your employees will be much more motivated when they know how much you invest. Also, consider rewarding your employees for good work. This will help your staff stay energetic throughout the day.
Make your booth stand out 
Typically, exhibiting at a trade show is planned at least 4-6 months in advance. It will help if you have chosen an exhibit stand supplier who will design and build a beautiful and efficient booth – a so-called custom stand. If you're looking for a more budget-friendly option, then modular stands may be the best. 
When designing your stand, create a narrative and tell your story through design. 
So, you have decided on a booth manufacturer, and now the main task is to attract more people to your stand. One of the key ways is to create a strong visual impact from your booth. Bold design, unique graphics, and vivid details can all be tools to achieve the goal of making your booth as noticeable as possible and attracting more visitors. 
Ensure the elements are visible from afar by getting an appropriately sized banner and conveying a clear, enticing message that grabs people's attention. By looking at your stand, visitors should be able to understand what your company does and what message your brand carries. Your trade show booth is a reflection of your offerings. 
The best solution for such a task is to entrust booth design and construction to an experienced exhibition booth builder, such as the German exhibition solutions agency Maverick GmbH. These guys have been professionally building custom-made exhibition stands for over ten years and offer project management for your shows. The exhibition stand builder Maverick employees get involved in the project, and the process replaces at least two full-time employees you would have been paying a salary to! 
So, an attractive stand design involves: 
* Using eye-catching branding and graphic; 
* Showcasing your products and services;
* Clear and readable writing/image of your brand;
* Proper and effective use of lighting;
* Creating an inviting and friendly atmosphere;
* Precise and expressive highlighting of your slogans provides the key messages;
*Using high-quality, appropriate images.
You can also use video presentations. They are a universal tool that attracts many people and can be used to interact with your audience whether someone is on the stand or not. Video is a message that is constantly being presented to your potential clients and can be used to present your company's benefits while your team is busy with other visitors. The video should be shown and can be used on your website, Facebook, YouTube, and future marketing campaigns.  
Offer a rare experience
Another great solution how to attract people to your exhibition stand. Something out of the ordinary. Attract more guests to your stand with a fascinating demonstration or presentation, seminar or workshop, guest speaker or Q&A session, game, activity, or another event. These demonstrations and activities will let you interest the exhibition guests, communicate with them, and start conversations. They draw people to your booth and create a lively and dynamic atmosphere.
Interactive element. The technological capabilities of exhibition stands have increased dramatically in recent years, and the range of interactive technologies available for exhibition stands has grown exponentially. This can be augmented reality or branded digital games. Games are an exceptional opportunity to communicate with visitors and create a lasting impression on them. 
Live demonstrations of your product/service are also a creative way to stick out. It's a good option for exhibition guests to see your product or service. They'll be able to understand how the product works, and you'll have a chance to convince them that they need it. Conduct a product presentation by inviting one of the people who worked on its development or production. Be sure to inform attendees of the opportunity to get a VIP introduction to the product before the event and to announce the presentation during the show. Educational offerings. People come to trade shows for many reasons, including a desire to learn. Holding short and simple seminars can regularly draw people to your stand. It's a great way to create excitement around your stand.  
Offer a relaxing place 
Now is the time to put yourself in the visitor's place and understand how he feels after several hours of walking around inside the saturated information field of the exhibition. He is overwhelmed, tired, and most likely hungry.  How to make your vendor booth stand out? – it's a good decision.
Provide him with a mini-relaxing station. how to make your vendor booth stand out
Let your stand be simple and readily available. Guests will gladly come in if your frame provides a space where they can rest from the show. While they rest, you can casually talk to them about your product or leave them something to read, such as a flyer or catalog.
Be sure to have a wi-fi hotspot ready for your guests in case they need it. Slow wi-fi is annoying, so take care of quality communication services, and your visitors will appreciate this. Providing phone charging stations can also be a great benefit to the customers.  
Offering hot or refreshing drinks is also a great way to attract more people and allows you to start a conversation with them. Bottled water with your brand logo on it can be a great idea.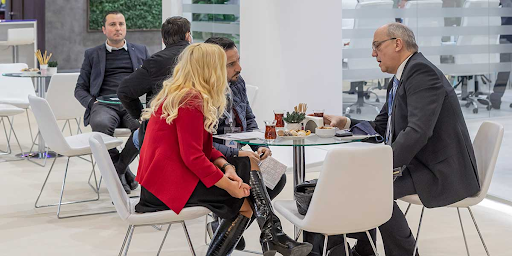 There's no need to even talk about snacks. Nothing attracts visitors like food. Free food. However, make sure you choose snacks that don't require cutlery or plates. This approach will also allow you to build rapport with your potential customers.
Do raffles and giveaways 
Give to get. Rest assured, your generosity will more than pay off. At all times, people are interested in free products. Still, when choosing products for merchandising, it's important to remember that such products are to be worth keeping after the show and even more so to use them repeatedly. So make sure you're giving them something worthwhile, like portable charges, USB flash drives, or reusable coffee mugs. And for sure, your gifts should be relevant to your business. 
Raffle prizes are also a crowd magnet. Hand them out to stand visitors along with a flyer or business card. They can also be used as prizes for games and challenges at your stand. 
One final lesson to remember: when attending a trade show, think of it not as an opportunity to sell individual products, although that can still happen, but instead as a chance to sell your brand as a whole. Positive cumulative returns can take up to three months to emerge after attending an exhibition. Still, they are followed by continued long-term positive returns and increased product awareness and interest.
Remember, success depends on careful planning, creative design, and innovative thinking. You could do it with some professional help. So, now you know how to make your exhibition stand out!