Plagiarism is considered an ill act as it is known as copying or stealing someone else's work and using it in your text while expressing it as yours.
It is important to eliminate plagiarism in every field, either you are a writer, marketer, blogger or student etc.
Quoting or quotation in writing is known as taking the same words from a source text. Using quotations in your work is an efficient way to avoid plagiarism.
Direct quotation is easy, but it might get tricky to eliminate plagiarism from indirect quotes sometimes. In this article, we have mentioned a few ways to avoid plagiarism while using quotations.
How to avoid plagiarism in direct quotation?
Using the exact words of an author is known as a direct quotation. Try to add very few of these instances. Do not use long passages while direct quoting.
Aim to cover it in one to two phrases. Using quotation marks when quoting an author verbatim is essential to avoid plagiarism.
To show that you are using the author's actual words, it is important to use terms such as "stated, or mentioned as." Plus, you need to cite the source.
How to avoid plagiarism in Indirect quotations?
Indirect quotation means to use the source text by making slight grammatical changes in your text. While indirect quoting, it is not necessary to employ quotation marks.
But you must ensure that you are reporting the statement of the author. Citing the source is equally important while using an indirect quotation.
Ways to avoid plagiarism for quoting:
There are a few ways that are helpful to get rid of plagiarism from your text when you are quoting a source.
Paraphrasing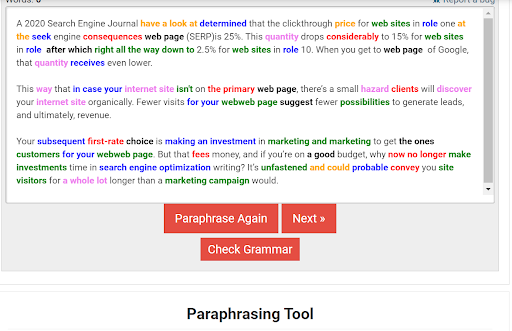 Paraphrasing is known as the rephrasing of words. When paraphrasing, you take an idea from a source and rewrite it in your text by altering the words or phrases.
It is important to maintain the original meaning and concept of the source text while paraphrasing. You must make sure that the key idea of the source remains intact.
While using quotations, you can use paraphrasing tool to avoid plagiarism because you will not just copy the source text and will alter it in a unique way through paraphrasing Tool.
There are numerous online paraphrasing tools available that you can use for free. These tools will help you detect and remove plagiarism and rewrite the quotation in a new unique manner.
Summarizing
Summarizing is known as taking a source text, surveying it elaborately and then writing it concisely.
Summarizing is a creative way to avoid plagiarism as you will be able to write a unique summary, all while taking ideas from the original text. Using summary while quoting is a great way to get unique content.
While you are summarizing the original text, make sure that you use the key idea and concept of the source and do not disturb its originality.
There are tools for summarizing too. You can use these to avail all the incredible features to get the most relevant summary.
Plagiarism Checker Tools

Plagiarism is a disaster to your content, and it needs to be eliminated at any cost. It is almost impossible for a human to detect and remove plagiarism from a text.
So, to make it easier, hundreds of online plagiarism checker tools are now generated. These tools are free to use and work on the latest AI-based technologies to deliver the most accurate plagiarism report so that there is no chance of any plagiarism in your content.
You can use these tools while using quotations. One of the best ways to check for plagiarism free is by using the plagiarism checker tool by PREPOSTSEO.COM.
This tool is very easy to use and offers various incredible features to its users. You can upload files to check plagiarism.
The tool ensures the safety of your content. You will be provided with a plagiarism report that can be downloaded. Moreover, the results are with proper sources and percentages.
Tips to avoid plagiarism:
Read the source carefully
While you are using quotations, it is important to survey the source text elaborately.
This will help you to have a good idea and understanding of what the writer is saying so that you can rewrite it in your own words without plagiarizing.
Take Notes
Write all the important points in quotation marks. Make sure you understand the original meaning. Do not mix your thoughts and try to focus on the main idea.
Write and proofread
Once you are done writing, it is important to proofread your text to detect duplicate content or grammatical errors.
Conclusion:
It is important to eliminate Plagiarism from your content, no matter what kind of text you are writing.
Quotations are a good way to avoid plagiarism, but it is essential to ensure that your quotations are plagiarism-free.
Review the article to make it easier for you to eliminate plagiarism by following a few ways and tips.
I have been writing articles from the very beginning. I research before writing tutorials and make sure to pen it down in such a way that it becomes easier to understand by users.