The use of backlit photography enables the creation of stunning interior or outdoor illumination. Developing abilities might help you take stunning backlit wedding photos. To frame them use a Premium Backlit Frame for accompanying each other.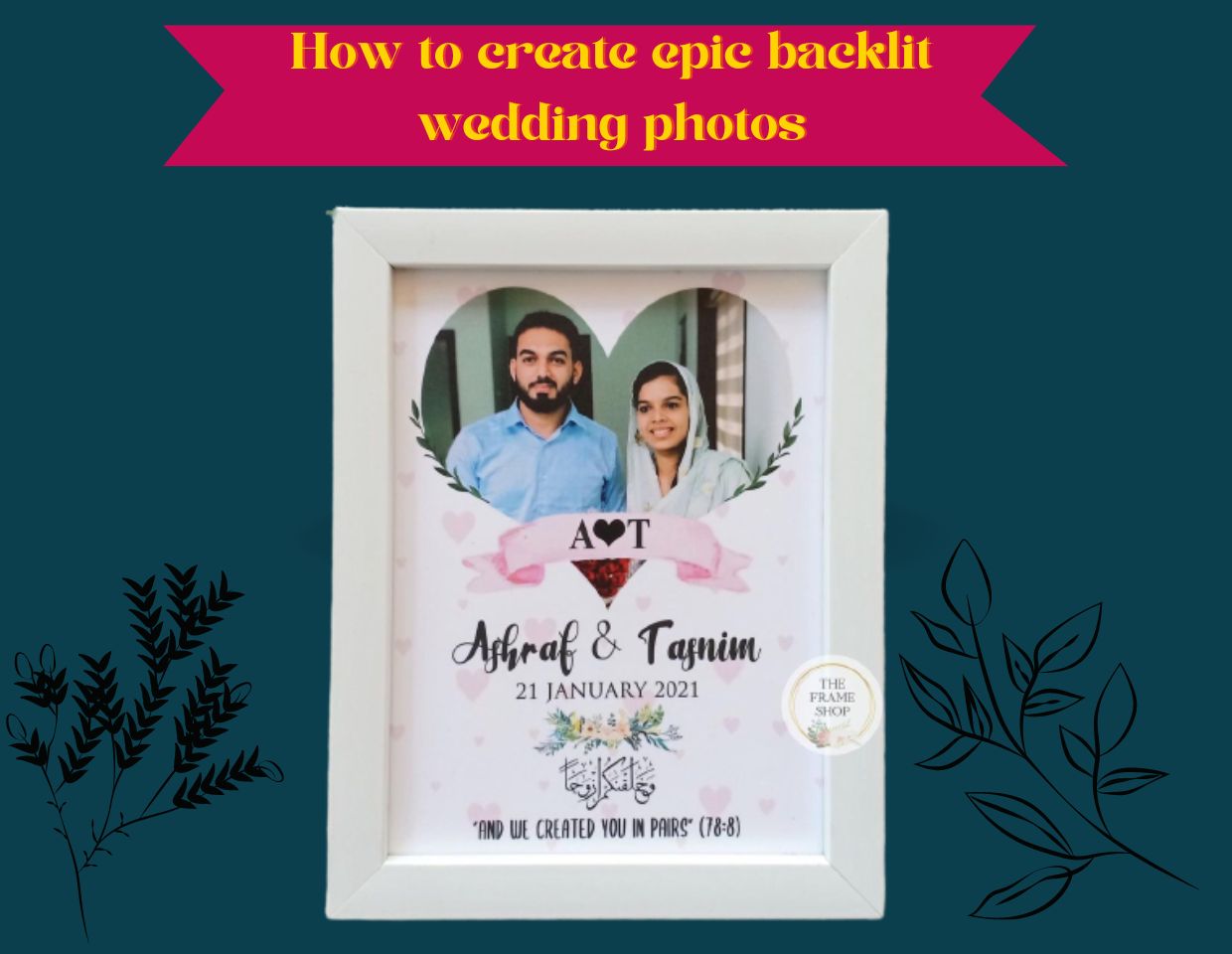 What is Backlighting in Photography?
The main light source from the main subject is placed in the backlight for the greatest wedding photography.
Photographers frequently use this approach to create original challenges and compositions. To succeed novices should master this through amount of trial and error. It is how one learns to create visually stunning photographs.
What makes backlit photos so popular?
If I talk about my career, I love shooting backlit photos because you have to be creative and have unlimited options. It involves my camera and skills, and my clients work with me in coordination. These images are enjoyed by the customer as well, we love shooting time. In the right hands, you will find magical photographs that are perfect for home decor if done enthusiastically and perfectly.
What are the effects of Backlit photography?
Backlighting is an effective tool for shooting beautiful wedding pictures. It can bring a sense of depth and emotional feel to the photograph.
It is not the simplest method to create one but mastering it helps you understand how it works. So, to create one, go through the basics that you will need-
Depth-

It creates the depth behind the subject that enhances the image of the duo.

Dramatic effect- I

t produces contrast between the subject and surroundings which is why it is loved for outdoor shootings. You might have seen Instagrammers emphasizing such images these days.

Use of Natural Light-

If you are shooting with minimal lights outside, backlighting helps to make the image more striking and evocative.
How to create an epic wedding backlit photograph-
Follow these tips to get that technique.
Choose the correct camera settings-

Switch to manual mode in your camera settings. It is the first step for straightforward, and front-lit photography. Overexposing the image with backlit is a good idea as the pair sits close to the camera and the surroundings are darker. It is good to start with a wide aperture of f/2.8 or more and an ISO of around 100. The shutter speed should be between 1/100 to 1/640. Take some sample images for testing purposes and start with the real task.

Choosing the right time-

Either, you go in the early morning or late in the evening when the sunrises or sunsets. These hours are known as the golden period as the sun positioned in the sky is directly above the couple to enhance the image by right dispersing light.

Light positioning behind the Duo-

Pick the camera, and position it right behind the couple. When you are looking at them through the camera the backlight should disperse and be hidden behind the duo to create effects.

Adjust Equipment-

After testing images, adjust the camera and backlit properly. If you are working at night it is important to check multiple times for backlight. If you are working with the sun as a backlight, it might create an unwanted flare. So, a lens hood or umbrella kit will help to capture the required picture.

Different Angles-

Don't be lazy changing angle positions helps in addition to the couple's face. You never know which angle will be best, and a couple might pick something different.

Fill flash and light-

Adding backlight helps in adding depth to the subject's face. This way, you get a dramatic backlight with clarity.

Using a spot meter-

Spot lights increase the frame and allow you to take the maximum out of it. Professional photographers always use spot metering to read the standard backlit exposure.

Adjust White Balance-

White balance is an important part when you are working with backlit photos. Right white balance makes your images vibrant and lively.
Conclusion-
Whether you are an amateur or a skilled photographer, photography requires patience and expertise. Many photographers have spent years achieving the position of the best photographer. To master it, you need practice and more practice. For a better understanding, you can check YouTube videos to know what we intended to mention in this article.
Special Notes for Creating Epic Backlit Photos-
The angle of flash spreads with any bounce. If you are shooting outdoors, and there are trees, buildings, or gazebo, remember the light will bounce a bit.

Always practice with aperture/ ISO/ Shutter speed to know the correlation with flash. 

Do not blind the couples. Tell them not to look at the flash and look at each other.

Try something unique, be creative.

Enjoy!
I hope this was helpful to you. Have questions? Write to us in the comment section below.
Welcome to our blog! My name is Yuvraj Kore, and I am a blogger who has been exploring the world of blogging since 2017. It all started back in 2014 when I attended a digital marketing program at college and learned about the intriguing world of blogging.