Walt Disney was a creative genius and a pioneer in the entertainment industry. He was an American entrepreneur, animator, voice actor, and film producer who founded the Walt Disney Company, which is now one of the world's largest media and entertainment conglomerates. Disney's work revolutionized animation and helped shape modern popular culture.
Disney was born in 1901 in Chicago, Illinois. From an early age, he had a passion for drawing and art. He started his career as a commercial artist in Kansas City, Missouri, where he met his longtime collaborator and friend, Ub Iwerks. Together, they formed the Disney Brothers Studio in 1923, which later became the Walt Disney Company.
Disney's first major success came in the form of the cartoon character Mickey Mouse, which he created in 1928. The character became an instant hit and went on to become the company's mascot. Disney continued to create popular characters such as Donald Duck, Goofy, and Pluto, which are still popular today.
Disney's first feature-length animated film, Snow White and the Seven Dwarfs, was released in 1937. It was a critical and commercial success, and it set a new standard for animated films. Disney continued to produce animated films, including Pinocchio, Fantasia, Bambi, and Cinderella, which are considered classics of the genre.
In addition to his work in animation, Disney was also a pioneer in the field of theme parks. He opened Disneyland in Anaheim, California, in 1955, which was the first theme park of its kind. The park was an immediate success and went on to become one of the world's most popular tourist attractions. Disney also oversaw the creation of Walt Disney World in Florida, which opened in 1971.
Disney's influence on popular culture is immeasurable. His characters, films, and theme parks have inspired generations of people all over the world. Disney's legacy lives on through the Walt Disney Company, which continues to produce films, television shows, and other forms of entertainment.
In conclusion, Walt Disney was a visionary who changed the entertainment industry forever. His contributions to animation and theme parks have had a lasting impact on popular culture, and his legacy continues to inspire and entertain people all over the world.
"The flower that blooms in adversity is the most rare and beautiful of all" – Mulan
---
"All it takes is faith and trust"– Peter Pan
---
"The past can hurt. But the way I see it, you can either run from it or learn from it" – The Lion King
---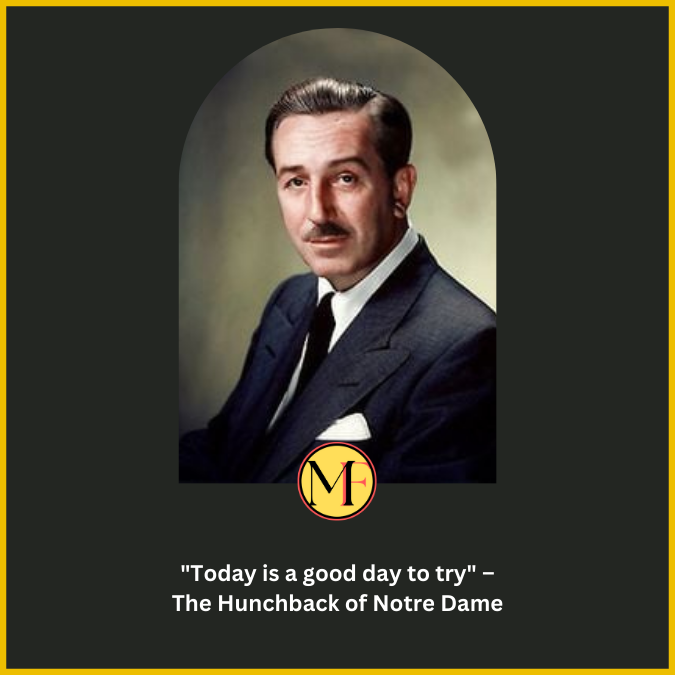 "Today is a good day to try" – The Hunchback of Notre Dame
---
"Just because it's what's done, doesn't mean it's what should be done" – Cinderella
---
"Some people are worth melting for" – Frozen
---
"The only way to get what you want in this world is through hard work" – The Princess and the Frog
---
"Can anybody be happy if they aren't free?" – Beauty and the Beast
---
"The only thing predictable about life is its unpredictability" – Ratatouille
---
"Remember who you are" – The Lion King
---
"Giving up is for rookies" – Hercules
---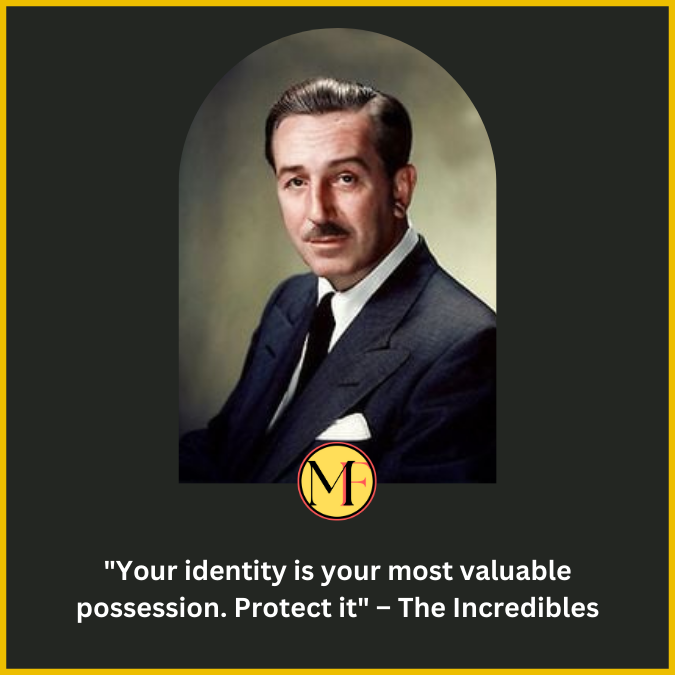 "Your identity is your most valuable possession. Protect it" – The Incredibles
---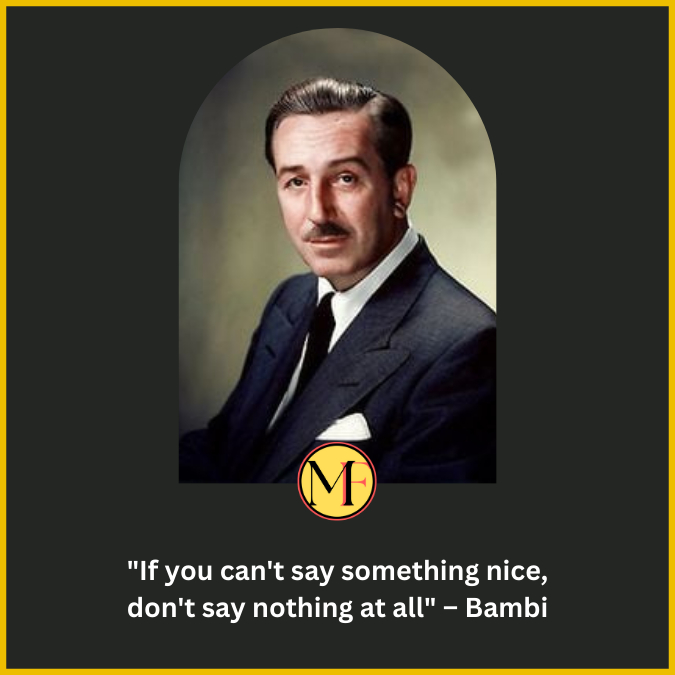 "If you can't say something nice, don't say nothing at all" – Bambi
---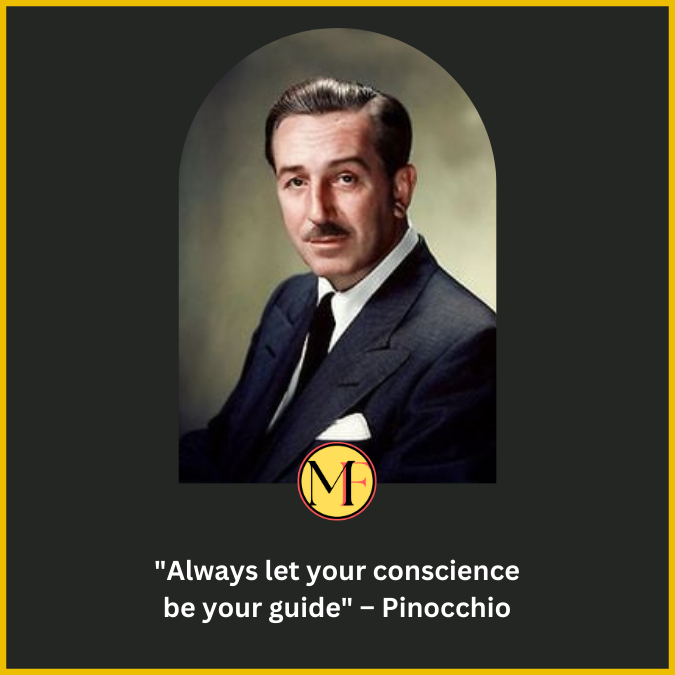 "Always let your conscience be your guide" – Pinocchio
---
"Ohana means family. Family means nobody gets left behind or forgotten" – Lilo & Stitch
---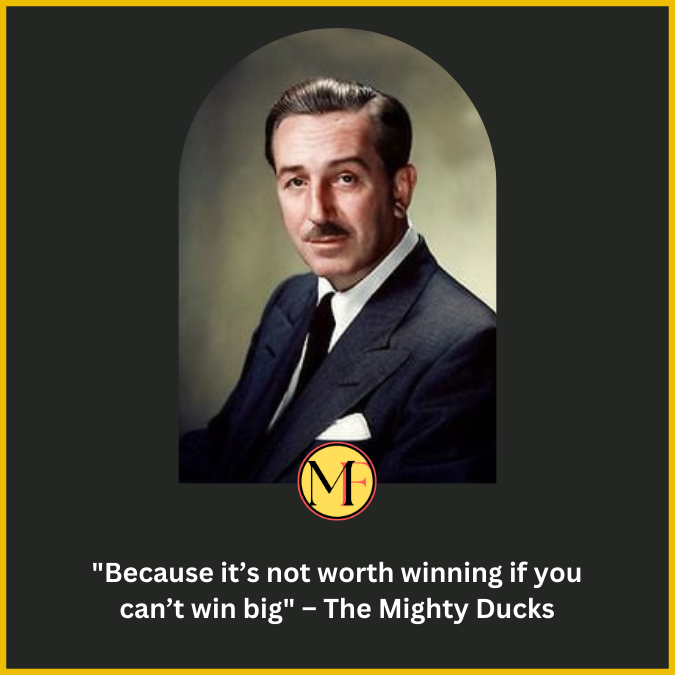 "Because it's not worth winning if you can't win big" – The Mighty Ducks
---
"You want something done, you've got to do it yourself" – The Little Mermaid
---
"Do not be fooled by its commonplace appearance. Like so many things, it is not what is outside, but what is inside that counts" – Aladdin
---
"Practically perfect in every way" – Mary Poppins
---
"Being brave doesn't mean you go looking for trouble" – The Lion King
---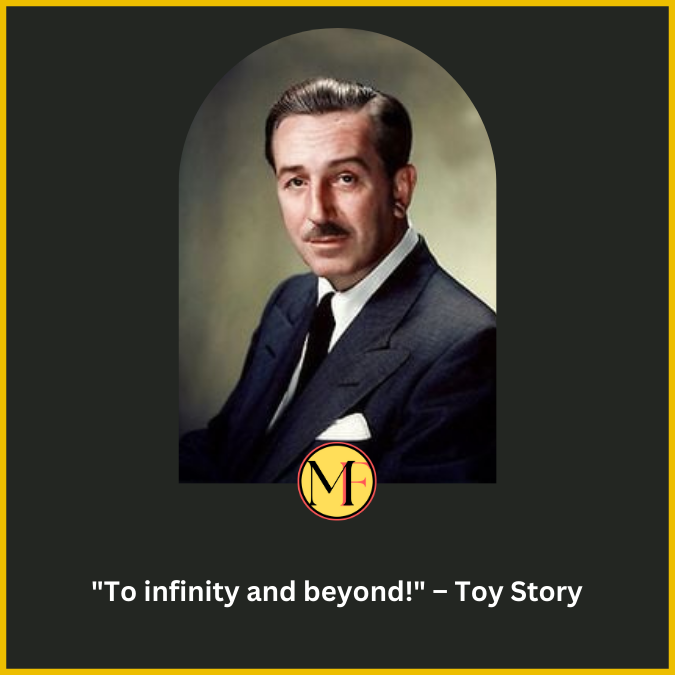 "To infinity and beyond!" – Toy Story
---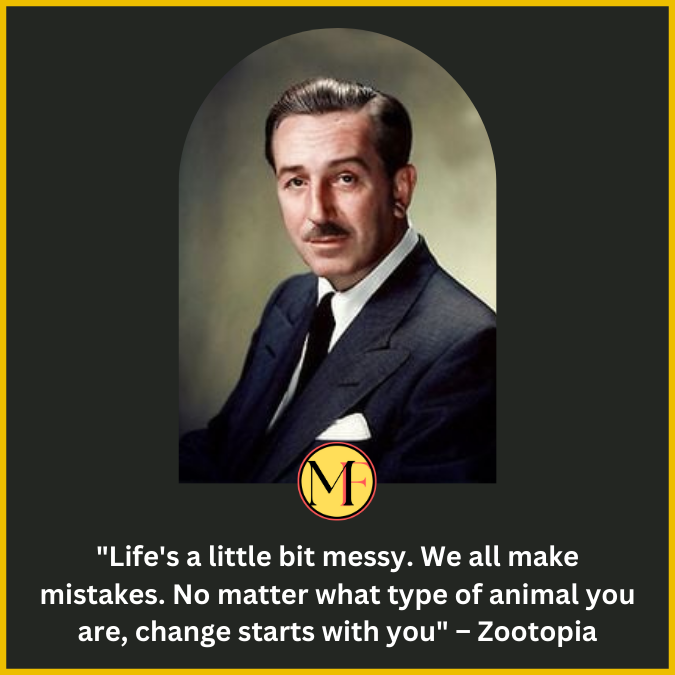 "Life's a little bit messy. We all make mistakes. No matter what type of animal you are, change starts with you" – Zootopia
---
"Whatever choice you make, let it come from your heart" – The Princess Diaries 2: Royal Engagement
---
"Adventure is out there" –Up
---
"I don't want to survive. I want to live" – WALL-E
---
"Ladies do not start fights, but they can finish them" – The Aristocats
---
"Do you believe in miracles? YES!" – Miracle
---
"I'm a damsel, I'm in distress, I can handle this. Have a nice day" – Hercules
---
"It's up to you how far you go. If you don't try, you'll never know" – The Sword in the Stone
---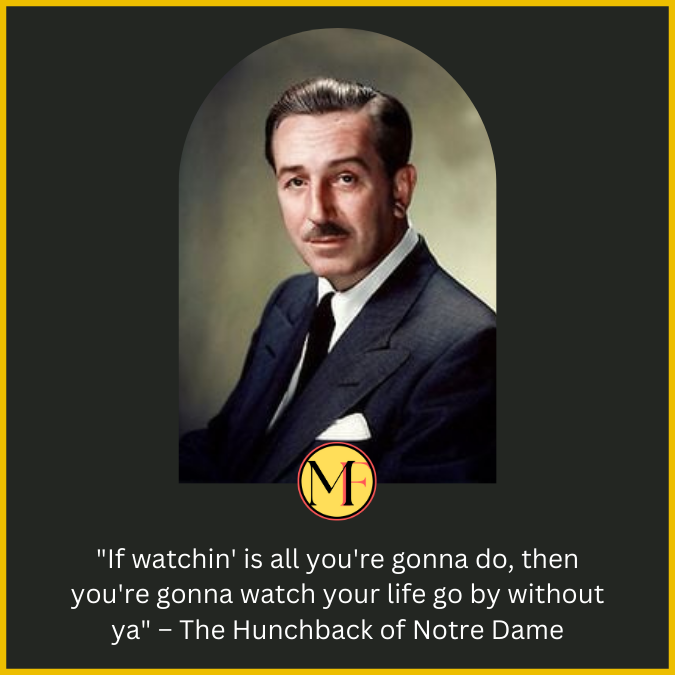 "If watchin' is all you're gonna do, then you're gonna watch your life go by without ya" – The Hunchback of Notre Dame
---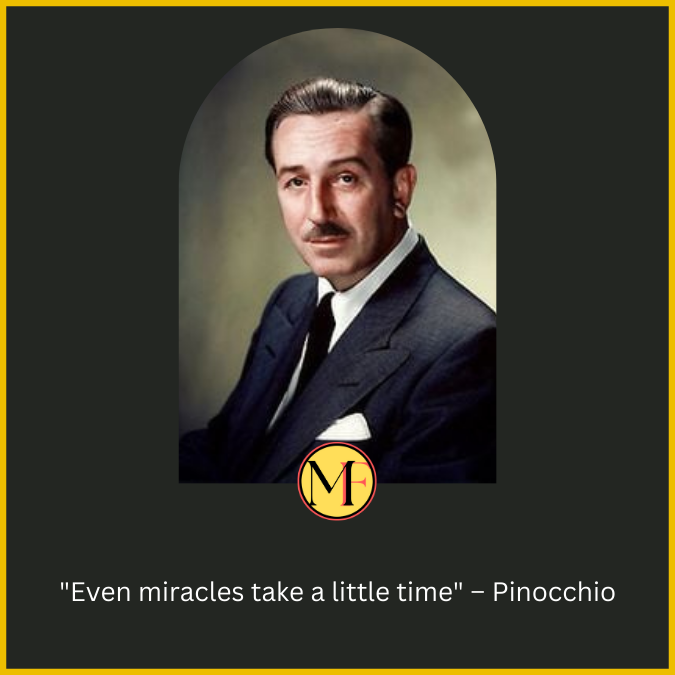 "Even miracles take a little time" – Pinocchio
---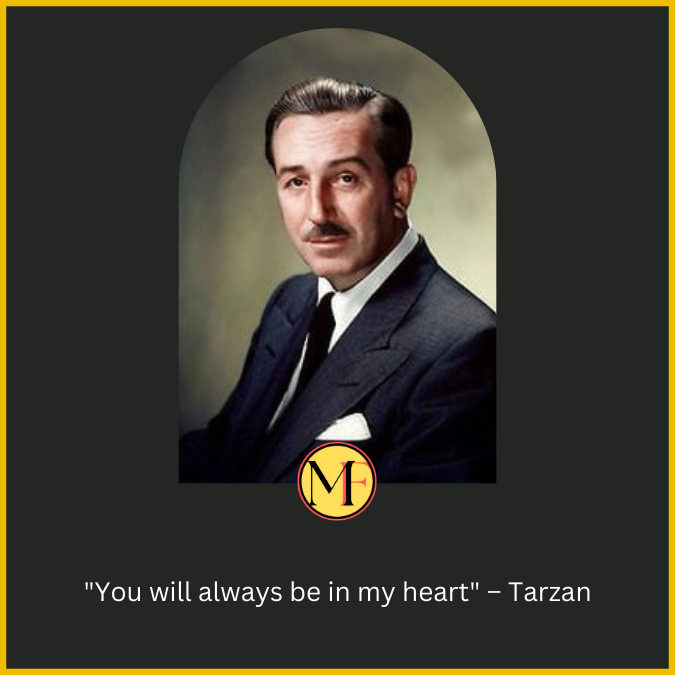 "You will always be in my heart" – Tarzan
---
---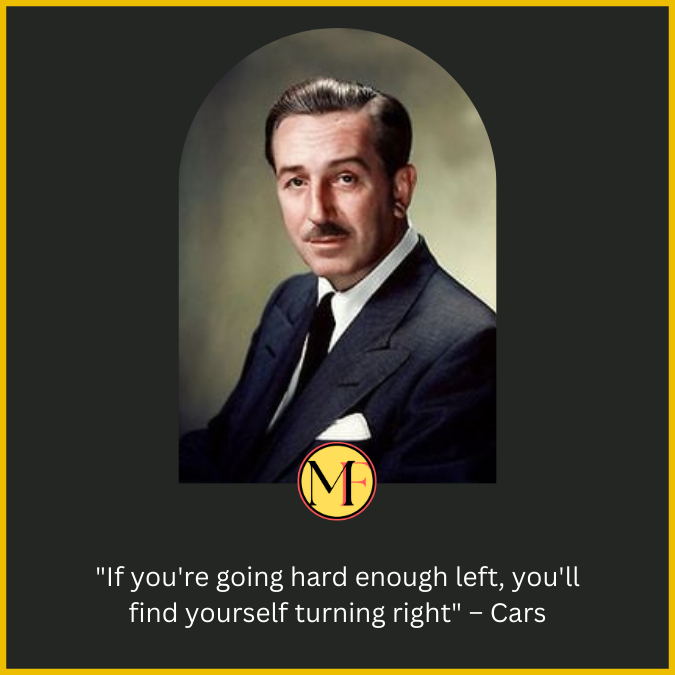 "If you're going hard enough left, you'll find yourself turning right" – Cars
---
"A true hero isn't measured by the size of his strength but by the strength of his heart" – Hercules
---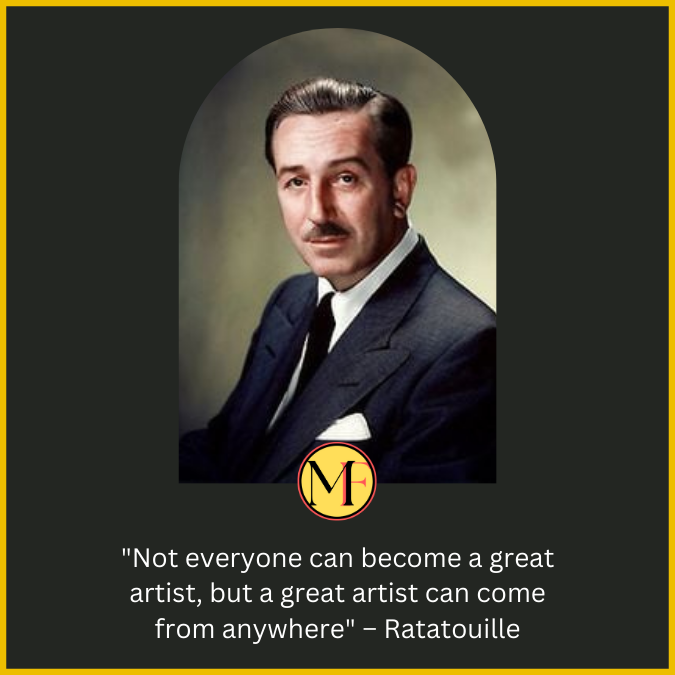 "Not everyone can become a great artist, but a great artist can come from anywhere" – Ratatouille
---
"Everything is possible. Even the impossible" – Mary Poppins Returns
---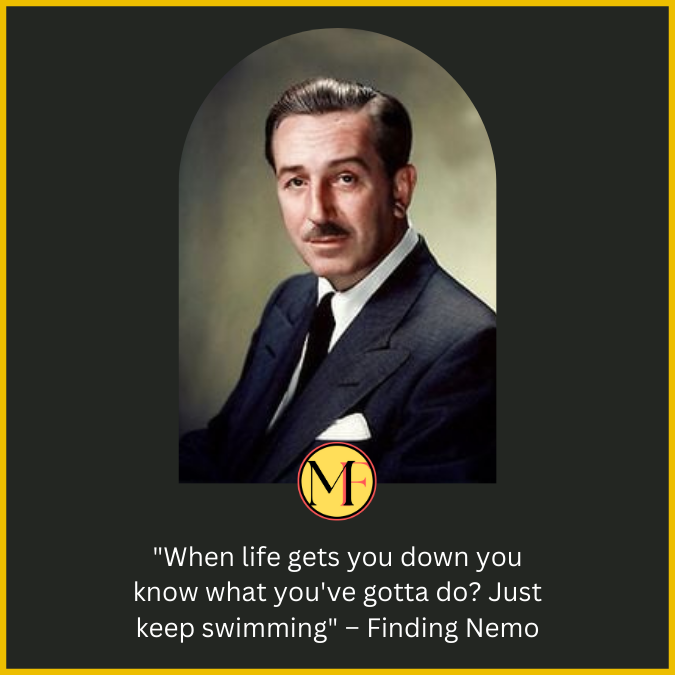 "When life gets you down you know what you've gotta do? Just keep swimming" – Finding Nemo
---
"Nothing is more important than our friendship" – Monsters, Inc.
---
"She warned him not to be deceived by appearances, for beauty is found within" – Beauty and the Beast
---
"Let love guide your actions" – Brother Bear
---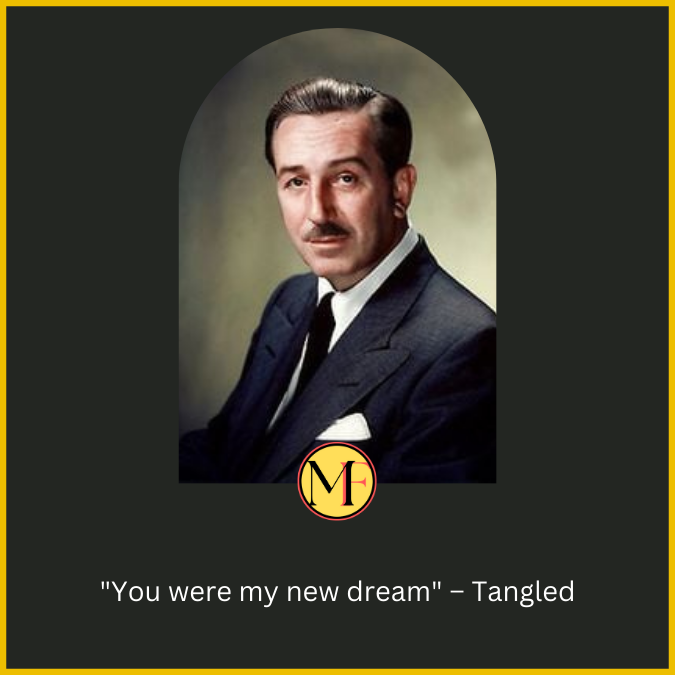 "You were my new dream" – Tangled
---
"You're mad. Bonkers. Off your head. But I'll tell you a secret, all the best people are" – Alice in Wonderland
---
"The problem is not the problem. The problem is your attitude about the problem. Do you understand?" – Pirates of the Caribbean
---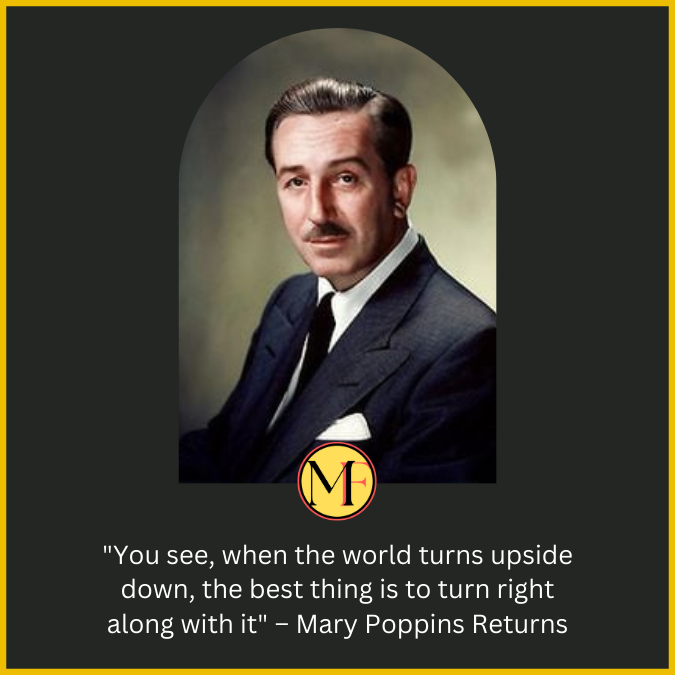 "You see, when the world turns upside down, the best thing is to turn right along with it" – Mary Poppins Returns
---
"I never look back, darling. It distracts me from the now" – The Incredibles
---
"From failure we learn, from success not so much" – Meet the Robinsons
---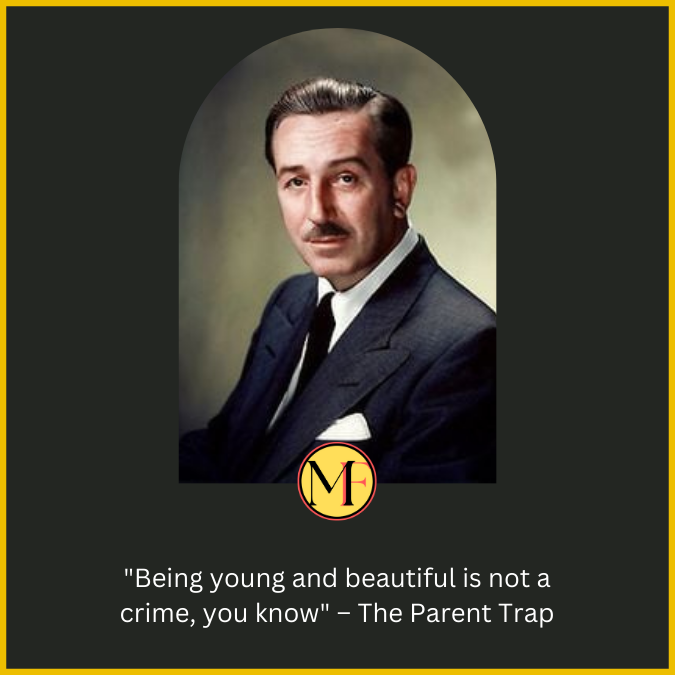 "Being young and beautiful is not a crime, you know" – The Parent Trap
---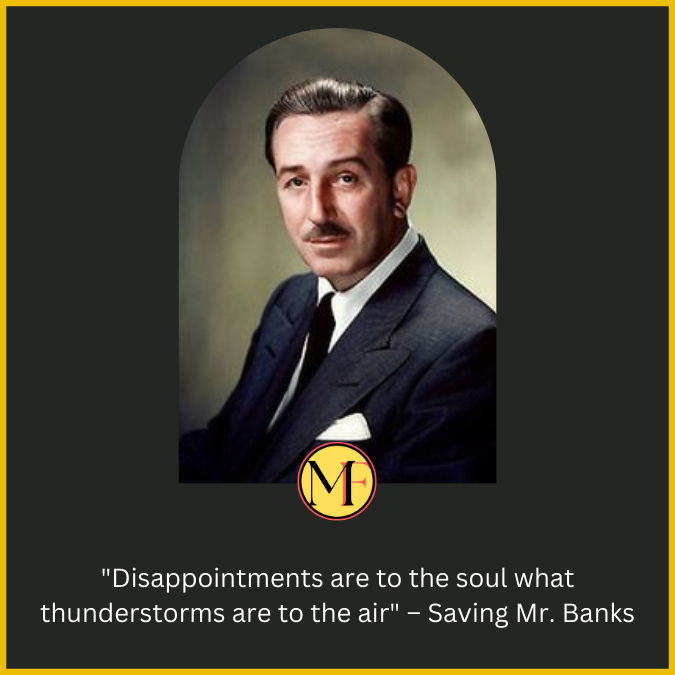 "Disappointments are to the soul what thunderstorms are to the air" – Saving Mr. Banks
---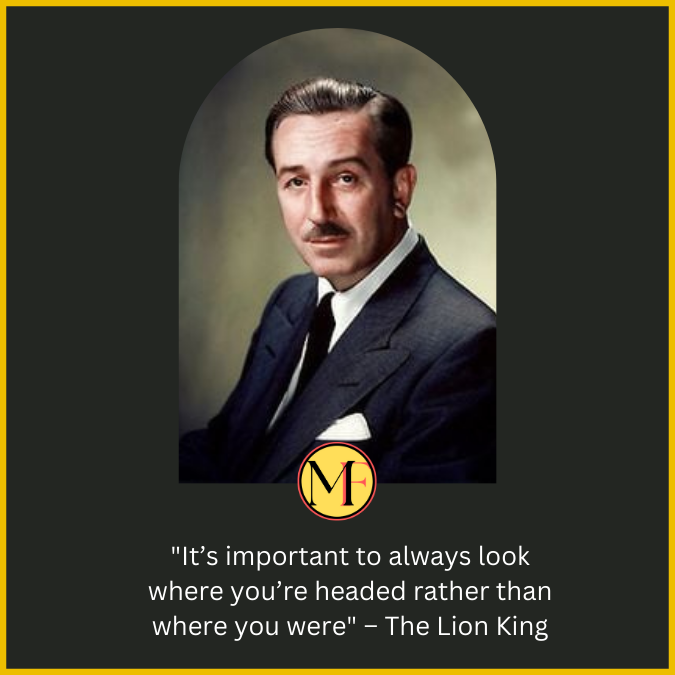 "It's important to always look where you're headed rather than where you were" – The Lion King
---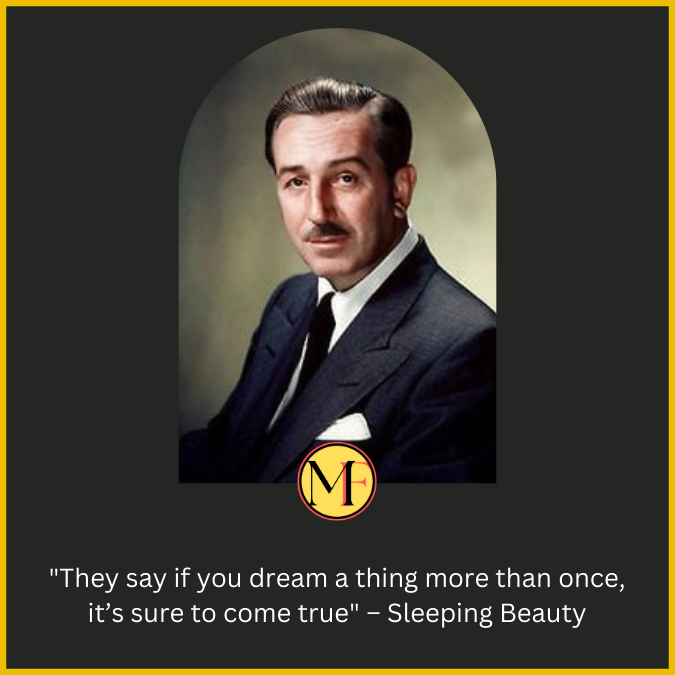 "They say if you dream a thing more than once, it's sure to come true" – Sleeping Beauty
---
"You are braver than you believe, stronger than you seem and smarter than you think" – The Many Adventures of Winnie The Pooh
---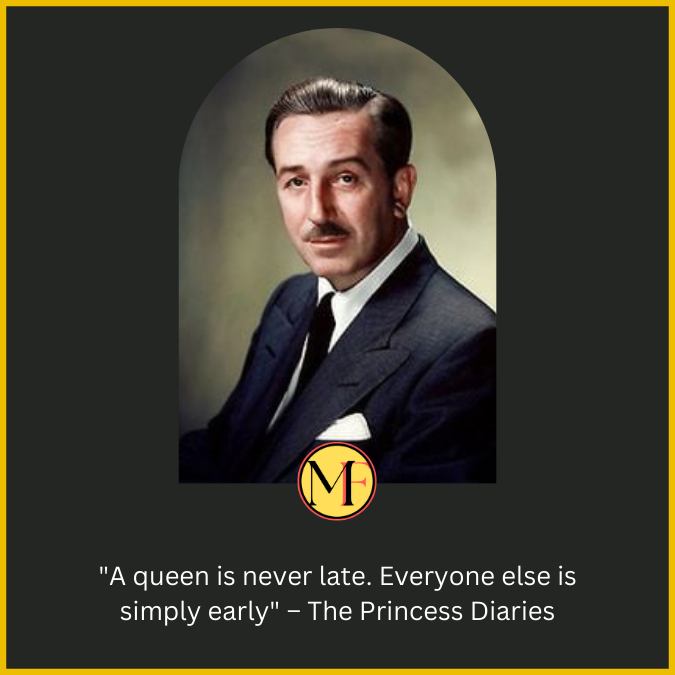 "A queen is never late. Everyone else is simply early" – The Princess Diaries
---
"In every job that must be done, there is an element of fun. You find the fun and snap, the job's a game" – Mary Poppins
---
"Love is putting someone else's needs before yours" – Frozen
---
"This cannot be a team of common men because common men go nowhere. You have to be uncommon" –Miracle
---
"If you don't know where you want to go, then it doesn't matter which path you take" – Alice in Wonderland
---
"I remember daddy told me 'Fairytales can come true'. But you've got to make them happen, it all depends on you" – The Princess and the Frog
---
"I don't see how a world that makes such wonderful things could be bad" – The Little Mermaid
---
"Why are you threatened by anyone different than you?" – Tarzan
---
"Sometimes our strengths lie beneath the surface" – Moana
---
"Goodbye may seem forever, farewell is like the end. But in my heart's a memory, and there you'll always be" – The Fox and the Hound
---
"The only limit is your imagination" – Big Hero 
---
"If you ain't scared, you ain't alive" – The Good Dinosaur
---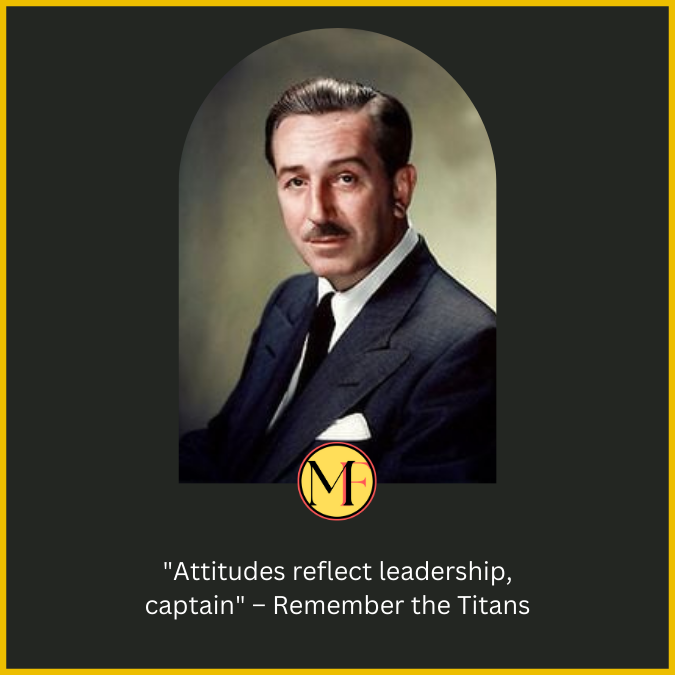 "Attitudes reflect leadership, captain" – Remember the Titans
---
"You don't have time to be timid. You must be bold. Daring" – Beauty and the Beast
---
"Sometimes you gotta get through your fear to see the beauty on the other side" – The Good Dinosaur
---
"I shall call him Squishy and he shall be mine and he shall be my Squishy" – Finding Nemo
---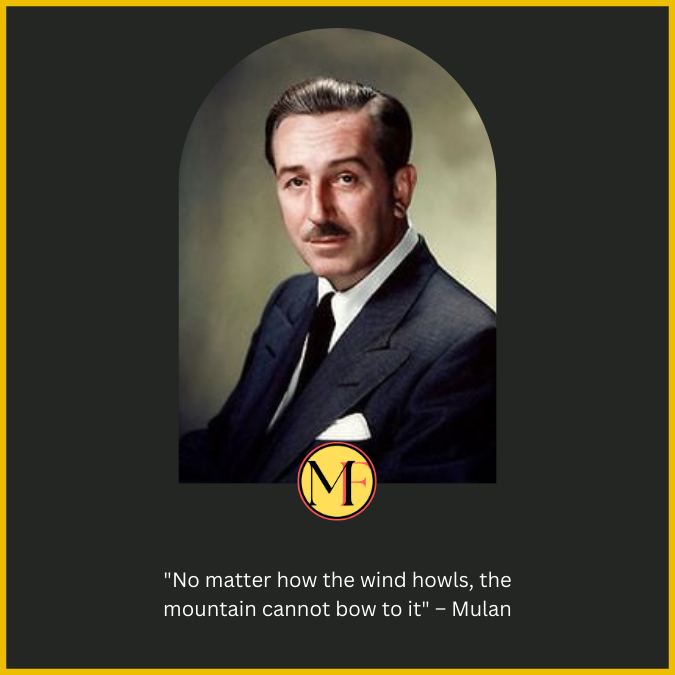 "No matter how the wind howls, the mountain cannot bow to it" – Mulan
---
"You must not let anyone define your limits because of where you come from. Your only limit is your soul" – Ratatouille
---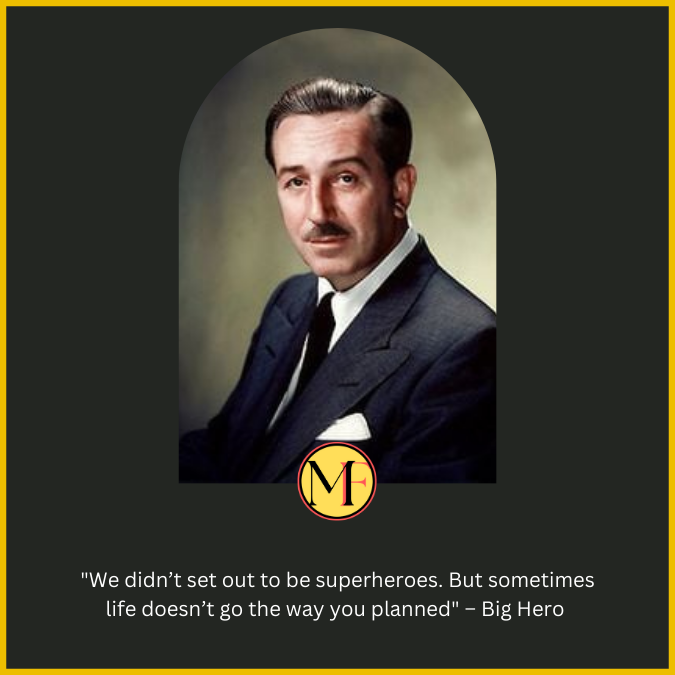 "We didn't set out to be superheroes. But sometimes life doesn't go the way you planned" – Big Hero 
---
"When I look at you, I can feel it. And I, I look at you and…I'm home" – Finding Nemo
---
"There are those who say fate is something beyond our command. That destiny is not our own, but I know better. Our fate lives within us, you only have to be brave enough to see it" – Brave
---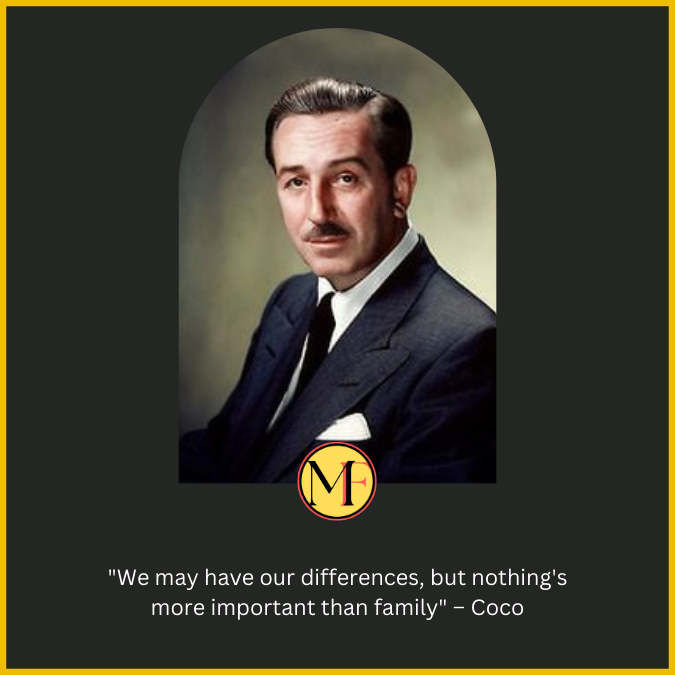 "We may have our differences, but nothing's more important than family" – Coco
---
"Sometimes the right path is not the easiest one" – Pocahontas
---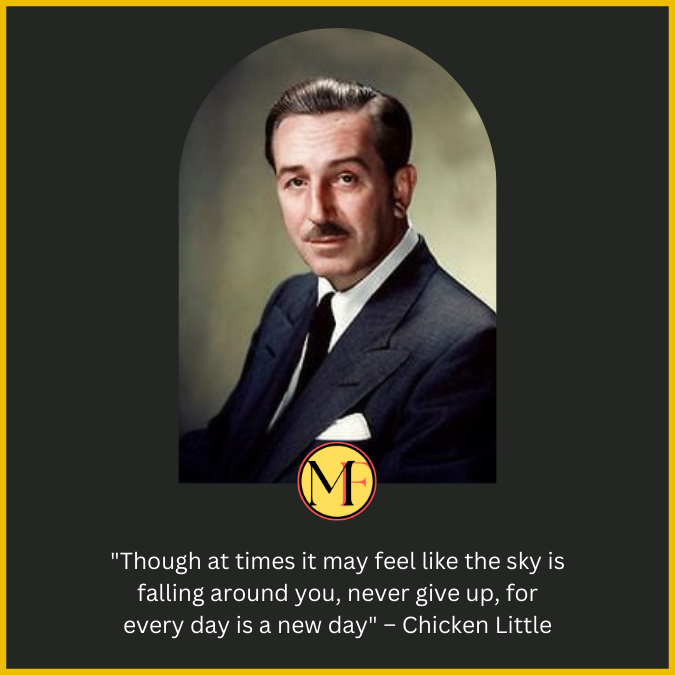 "Though at times it may feel like the sky is falling around you, never give up, for every day is a new day" – Chicken Little
---
"Open different doors, you may find a you there that you never knew was yours. Anything can happen" – Mary Poppins
---
"You shine like the light from the sun" – The Lizzie McGuire Movie
---
"The thing that makes Woody special is that he'll never give up on you" – Toy Story 3
---
"Hakuna Matata" – The Lion King
---
"That might sound boring, but I think the boring stuff is the stuff I remember the most" – Up
---
"The very things that hold you down are going to lift you up" – Dumbo
---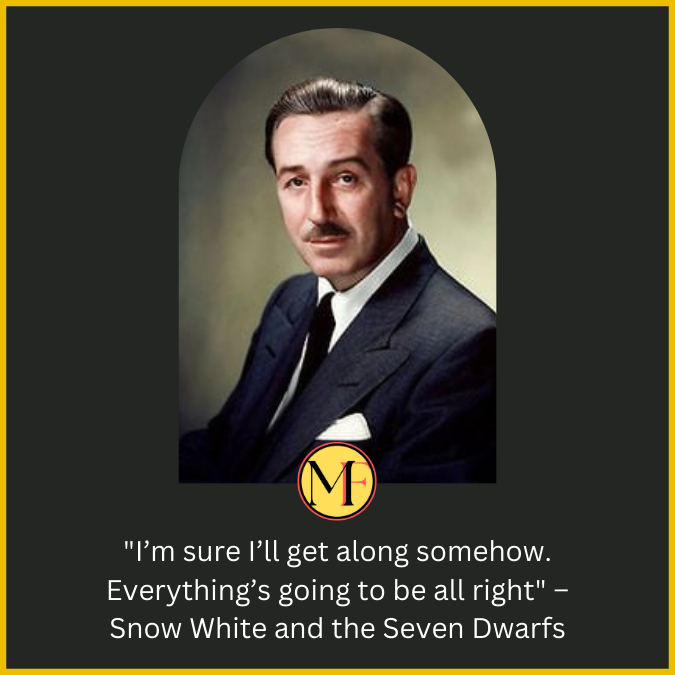 "I'm sure I'll get along somehow. Everything's going to be all right" – Snow White and the Seven Dwarfs
---
"Life is a harsh sentence to lay down for yourself" – Saving Mr. Banks
---
"Everything you see exists together in a delicate balance. As king, you need to understand that balance and respect all the creatures, from the crawling ant to the leaping antelope" – The Lion King
---
"Teenagers. They think they know everything. You give them an inch, they swim all over you" – The Little Mermaid
---
"Venture outside your comfort zone. The rewards are worth it" – Tangled
---
"I am not a prize to be won" – Aladdin
---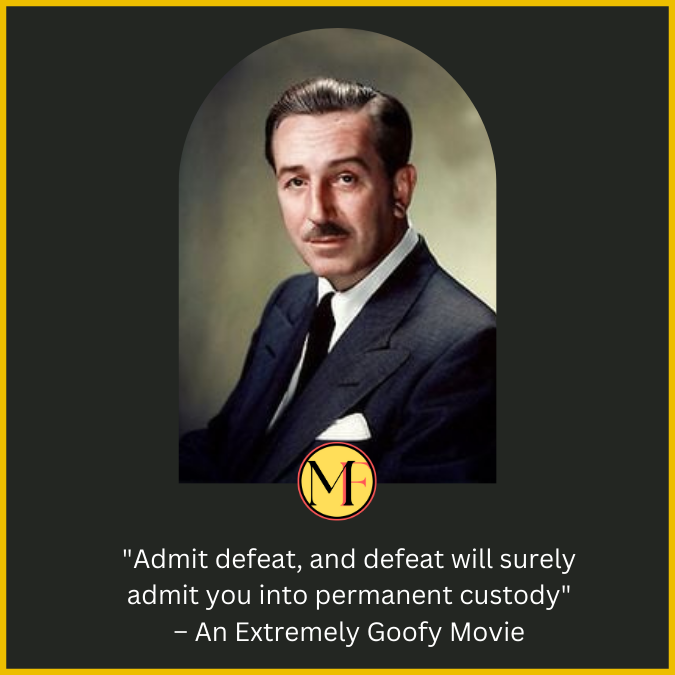 "Admit defeat, and defeat will surely admit you into permanent custody" – An Extremely Goofy Movie
---
"Sometimes you try your hardest, but things don't work out the way you want them to" – Lilo & Stitch
---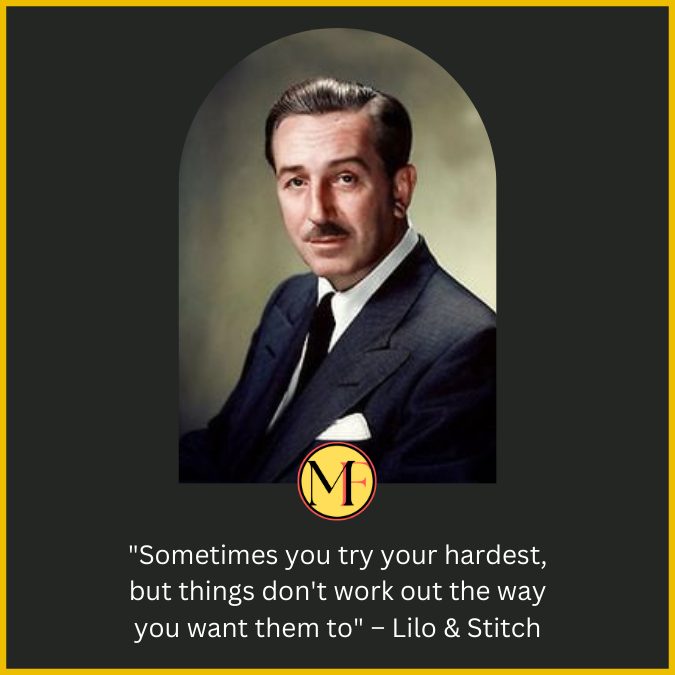 "A lie keeps growing and growing until it's as plain as the nose on your face" – Pinocchio
---
"No matter what anyone says, you'll always be a prince to me" – Aladdin
---
"Honey, you never looked better" – The Parent Trap 
---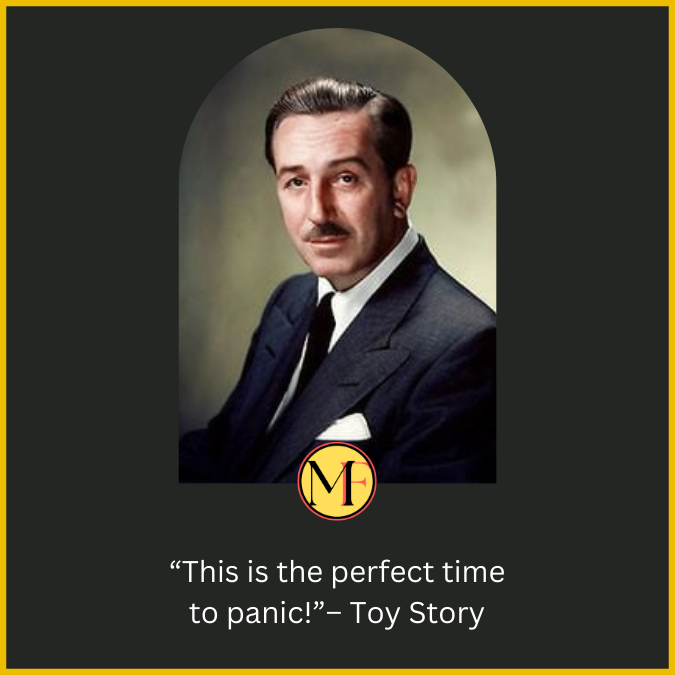 "This is the perfect time to panic!"– Toy Story
---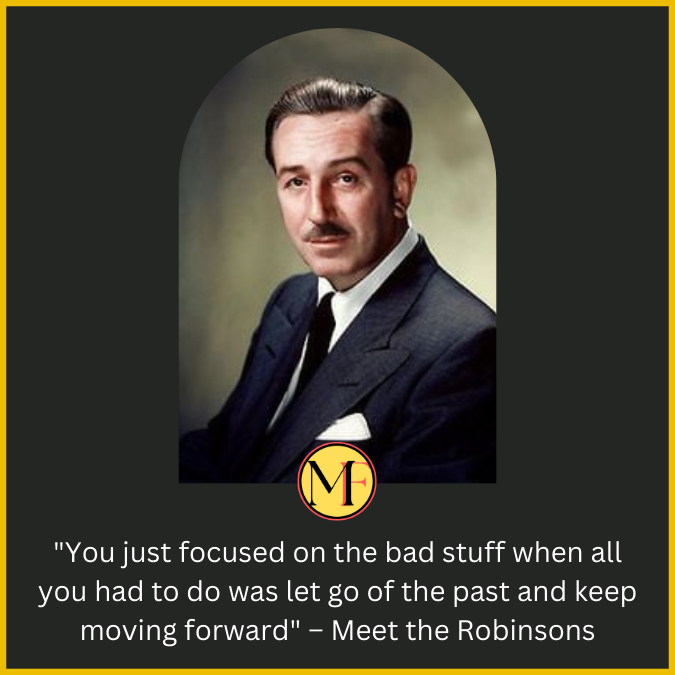 "You just focused on the bad stuff when all you had to do was let go of the past and keep moving forward" – Meet the Robinsons
---
"Everybody's got problems. The world is full of problems" – The Sword in the Stone
---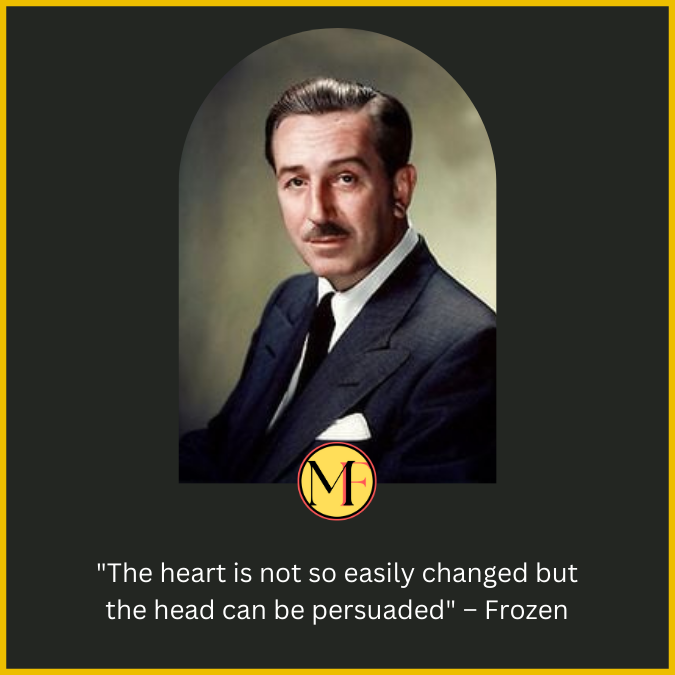 "The heart is not so easily changed but the head can be persuaded" – Frozen
---
"Faint hearts never won fair lady" – Robin Hood
---
"I'm bad, and that's good. I will never be good, and that's not bad. There's no one I'd rather be than me" – Wreck-It-Ralph
---
"There's always a chance, Doctor, as long as one can think" – The Great Mouse Detective