In an industry filled with flashy celebrities and cookie-cutter movie stars, Johnny Depp stands out as an elusive, multifaceted phenomenon. As one of Hollywood's most versatile and unconventional actors, Depp has built an iconoclastic repertoire of idiosyncratic characters across a prolific three-decade career.
From Edward Scissorhands to Captain Jack Sparrow, Sweeney Todd to Mad Hatter, Depp has carved a permanent place in pop culture with his bold artistic choices. Beyond memorably quirky on-screen personas though, the real-life Johnny Depp represents a magnetic yet enigmatic figure drawing rapt audiences as much for his mystical off-screen aura. With defiant individualism tempered by debonair charm, Johnny Depp continues fascinate as one of entertainment's enduring provocateurs and cultural influencers.
By repeatedly slipping into misfit roles and conveying their emotional core via masterful physical theatrics, Depp has given performances described using words like transcendent, unforgettable, sublime. This article explores the manifold dimensions underlying the phenomenon that is Johnny Depp – the small-town dreamer turned global superstar, tormented outcast turned self-made icon who ultimately transformed into Hollywood's most bankable outsider.
Early Life and Acting Breakthrough
Long before dazzling cinema audiences with larger-than-life screen presences, Johnny Depp enjoyed simple beginnings in the small riverside town of Owensboro, Kentucky where was born as the youngest of four children. Exposed to music and performance early via influences like father John's love for blues guitar and mother Betty Sue's nurturing of Depp's innate creative self-expression, young Depp dropped out of high school to pursue adolescent rock dreams in Los Angeles aged 16.
Fatefully while unsuccessfully seeking a record deal for his garage band, a coincidental meeting landed Depp an audition that sparked his entry into professional acting in 1984 – a film called Nightmare on Elm Street. Depp's minor supporting role as a teenager devoured on-screen by Freddy Krueger's macabre blades surprised with darkly funny moments that offered a glimpse into his innate signature charm. Other plucky 1980s parts in teen dramas 21 Jump Street and Private Resort propelled the photogenic actor towards Hollywood stardom.
Then in 1990, Depp's transformative starring turn as the titular Edward Scissorhands – a lonely, leather-clad man-made creation possessing scissors for hands – instantly embedded his reputation for embracing atypical outsiders. Tim Burton's fantasy collided two unlikely concepts – scissor-wielding freak and lovable fairy tale protagonist – into an unlikely commercial success establishing Depp as an eccentric leading man capable of eliciting empathy for those society shunned.
Collaborations with Tim Burton and Iconic Roles
Johnny Depp's formative on-screen alliance with director Tim Burton birthed a series of seminal cinematic triumphs spanning decades, genre and generations. From tragic heroes to comical freaks, this harmonious creative partnership spawned several of Depp's most iconic roles.
Their inaugural 1990 endeavor Edward Scissorhands marked the first showcase for Depp's now-signature knack for turning socially abnormal misfits into profoundly sympathetic heroes. In the eponymous lead role characterized by unusual Gothic pallor and a shy demeanor, Depp wordlessly expressed the distress and longing of an artificial boy who never realized his inventor's dream of integration into human society.
In 1994, Depp re-teamed with Burton for biopic Ed Wood paying tribute to infamously untalented B-movie director Edward Wood through another endearing oddball portrayal which earned critical plaudits and a Golden Globe. Further collaborations yielded Depp's macabre starring vehicle Sleepy Hollow; madcap eccentric turns in Charlie and The Chocolate Factory plus Alice in Wonderland; and vocal acting as the animated chameleon Rango.
Meanwhile, amid steady acclaim in indie dramas like What's Eating Gilbert Grape alongside Leonardo DiCaprio, Depp achieved global domination upon taking a famously offbeat route to portray pirate antihero in 2003 summer blockbuster Pirates of the Caribbean. Depp's casting as wispy weirdo Captain Jack Sparrow dumbfounded Hollywood observers anticipating typical heroic swagger from a big-budget leading man. Instead, his slurred speech and tipsy sword stunts birthed a flamboyantly comedic characterization that stole audience hearts while spawning a billion-dollar franchise still ongoing. Ensuing recognition included an Academy Award nomination for the first Pirates.
Artistic Versatility and Personal Brand
Beyond recurring collaborations and fan-favorite roles, Johnny Depp built a reputation for fearlessly tackling atypical, often provocative material across independent and big-budget projects alike. Unafraid of professional risks and unconcerned with safeguarding a conventional star image, Depp followed artistic impulses rather than commercial trends when selecting roles.
Depp shone through offbeat characters requiring physical daring and emotional vulnerability like undercover FBI agent Joseph D. Pistone infiltrating the Mob in Donnie Brasco; Irish gangster George Jung who helps introduce cocaine trend to 1970s America in Blow; 1920s playboy turned murder suspect in period thriller The Libertine. He occasionally voiced animation including the titular chameleon in Rango and Sherlock Gnomes.
Even when playing real-life figures, Depp imprinted distinct signature touches – like embracing Hunter S. Thompson's own outrageous vision for over-the-top adaptation Fear and Loathing in Las Vegas or adding flamboyant musical slants to demon barber Sweeney Todd and paraplegic Northern Irish prison rights activist McMurphy.
Off-screen too, Depp cultivated mystique by mostly avoiding the PR machinery and promise of fame he experienced as a young actor. He used accented speech, flowing manes and non-conformist fashion accentuated by tattoos and jewelry to carefully curate an intriguing outsider vibe aligned with many screen creations. By mirroring anti-establishment characters through calculated eccentricity in real life, Johnny Depp entrenched his stardom on pure acting credentials rather than standard celebrity appeal.
Philanthropic Endeavors and Personal Challenges
In addition to diverse acting pursuits, Johnny Depp impacted lives beyond cinema through extensive humanitarian and social initiatives. His benevolent causes included generous financial support plus personal appearances for organizations assisting ill children via Make-A-Wish Foundation; promoting child literacy via RHCP's Silverlake Conservatory fundraiser; environmental protection with Sea Shepherd Conservation Society; and advancing Native American welfare with HONOR initiative aiming to reshape derogatory stereotypes.
Depp also partnered with Scissorhands director Tim Burton in artistically championing disability empowerment and acceptance via their collaborative book "The Unknown Portraits: Johnny Depp, Tim Burton, Bono, and their quest to unmask disability". Celebrity-organized groups supporting Depp-favored initiatives included the Kindness Committee promoting kindness in schools and PACT to prevent substance abuse.
However, while professionally scaling great heights, Johnny Depp's personal journey also descended down occasional dark, destructive curves especially regarding substance abuse issues and turbulent relationships. Biographers charted Depp's anguished youth, career instability and inability to process global fame as triggers for developing alcohol and drug dependency from early fame era onwards – problems he coped via divorce from first wife Lori Allison plus serial dating.
Depp's documented addiction spiral into hard narcotic drugs led to a near-fatal overdose while filming Pirates 4 during a painful split from partner Vanessa Paradis. But intensive detox treatment allowed resumption of work and sobriety. In later years however, distressing legal developments including a failed London lawsuit against former managers for alleged fraud, and toxic fallout after divorce settlement from second wife Amber Heard, revived old demons. However recent career revivals and support from famous friends helped Depp persevere through personal storms back into calmer waters, much like Jack Sparrow braving unpredictable seas!
Enduring Legacy and Influence
In an esteemed career spanning over 80 films generating upwards of $10 billion box-office, Johnny Depp's cultural impact transcends acting prowess measured through traditional metrics like awards and analysts' accolades. Thanks especially to odd and damaged yet lovable silver screen creations, generations of moviegoers discovered somebody who made their weirdness 'okay', or their feelings 'normal'.
Beyond cinema, musician Depp's Hollywood Vampires project produced two acclaimed hard rock albums featuring famous friends. His personal relationships and youthful persona still inspire real-life devotion from global groupies calling themselves 'Deppheads'. Elsewhere Depp influenced literature via Turkish-American author Elif Batuman's 2021 book "Either/Or" inspired partly by her teenage obsession.
Meanwhile Reverend Vince Anderson of New York's Union Pool expresses gratitude towards the unlikely devotion Depp showed by regularly attending his gospel-motown Tuesday parties amidst personal crises post-divorce, describing spiritual uplift experienced seeing someone super famous lose and reclaim himself so humbly through music.
Over three decades nurturing beloved characters that reshaped culture and comforted millions, Johnny Depp cemented artistic eminence few achieve. And a life journey mirroring the outcasts he portrayed convinces followers of his authentic empathy. Though occasionally straying down regrettable paths, Depp's cultural legacy remains permanently etched through relatable rebels and oddballs, besides a timeless cool imprint.
Conclusion
Johnny Depp's enduring cultural impact stands undisputed even as his personal voyage faced occasional storms. Indeed a career borne from passion saw him inhabit over 80 unforgettable screen roles transcending easy stereotypes, garner copious accolades including an Academy Award nomination, and him anointed People Magazine's "Sexiest Man Alive". His chameleonic pursuit of challenging parts – from Scissorhands' poignant Monster to Sparrow's flailing Pirate – redefined commercial cinema tastes for generations.
If tireless commitment to artistic growth underpinned Depp's professional ascent, emotional extension towards causes like ill children and Native communities displayed equal heart. Personal trials too only deepened this sensitivity. In playing fragile souls and displaying his own, Johnny Depp proffered a redemptive promise to other wounded dreamers. Though the tabloid-scorched 2010s challenged Depp's personal equilibrium and professional standing, his primal passions promise more soulful surprises ahead.
For over 30 years, on-screen and off, Johnny Depp magnetized audiences through mercurial personas and mystic talent. Come what may next, his cultural legacy stands undisputed as both bonafide Hollywood star and daring artistic force who injected beauty into the broken, whimsical into the weird. Indeed generations found self-validation through Depp's imperfect misfits, locating shards of themselves in the margins he adorned so humanly.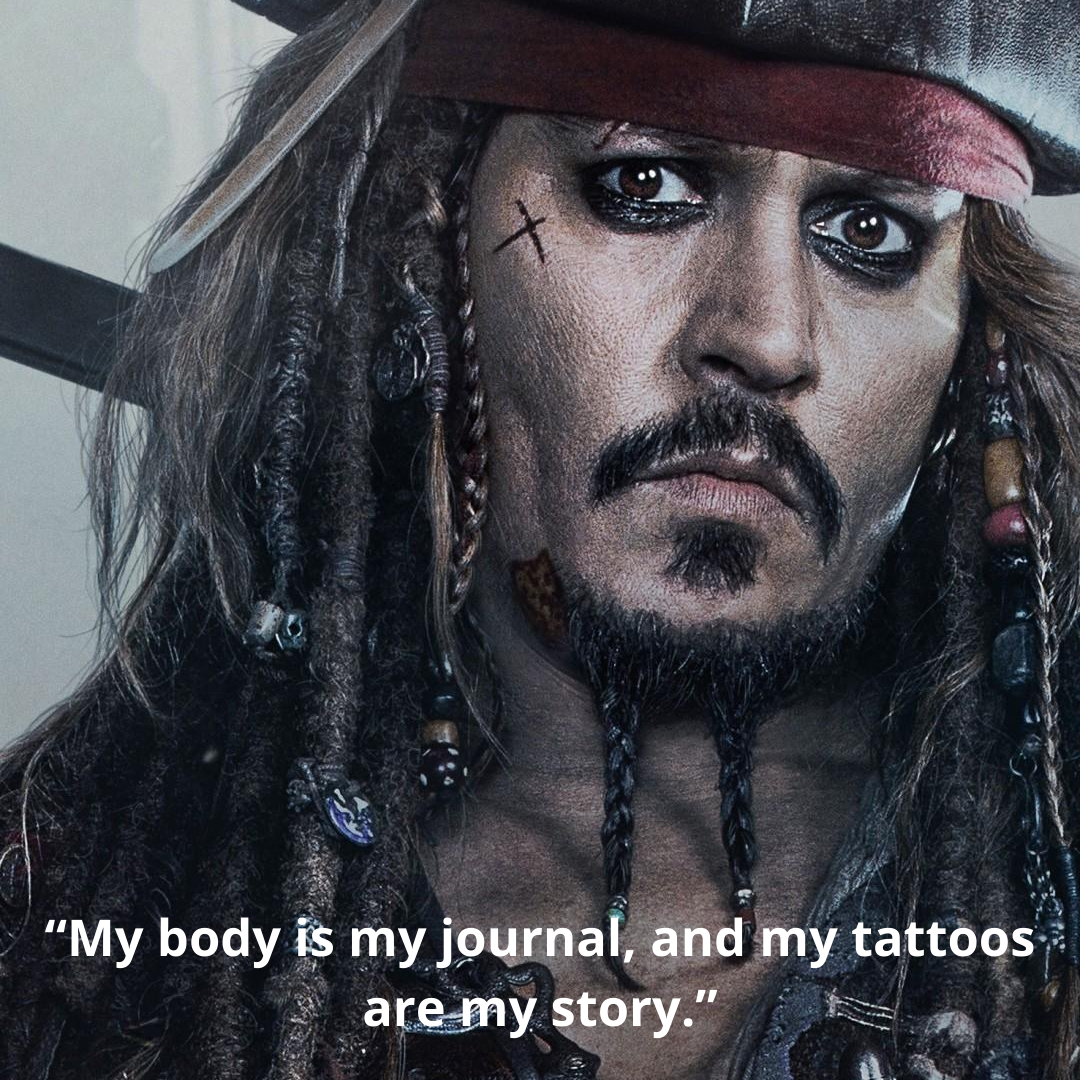 "My body is my journal, and my tattoos are my story."
---
"The only creatures that are evolved enough to convey pure love are dogs and infants."
---
"I try to stay in a constant state of confusion just because of the expression it leaves on my face."
---
"You gotta be careful: don't say a word to nobody about nothing anytime ever."
---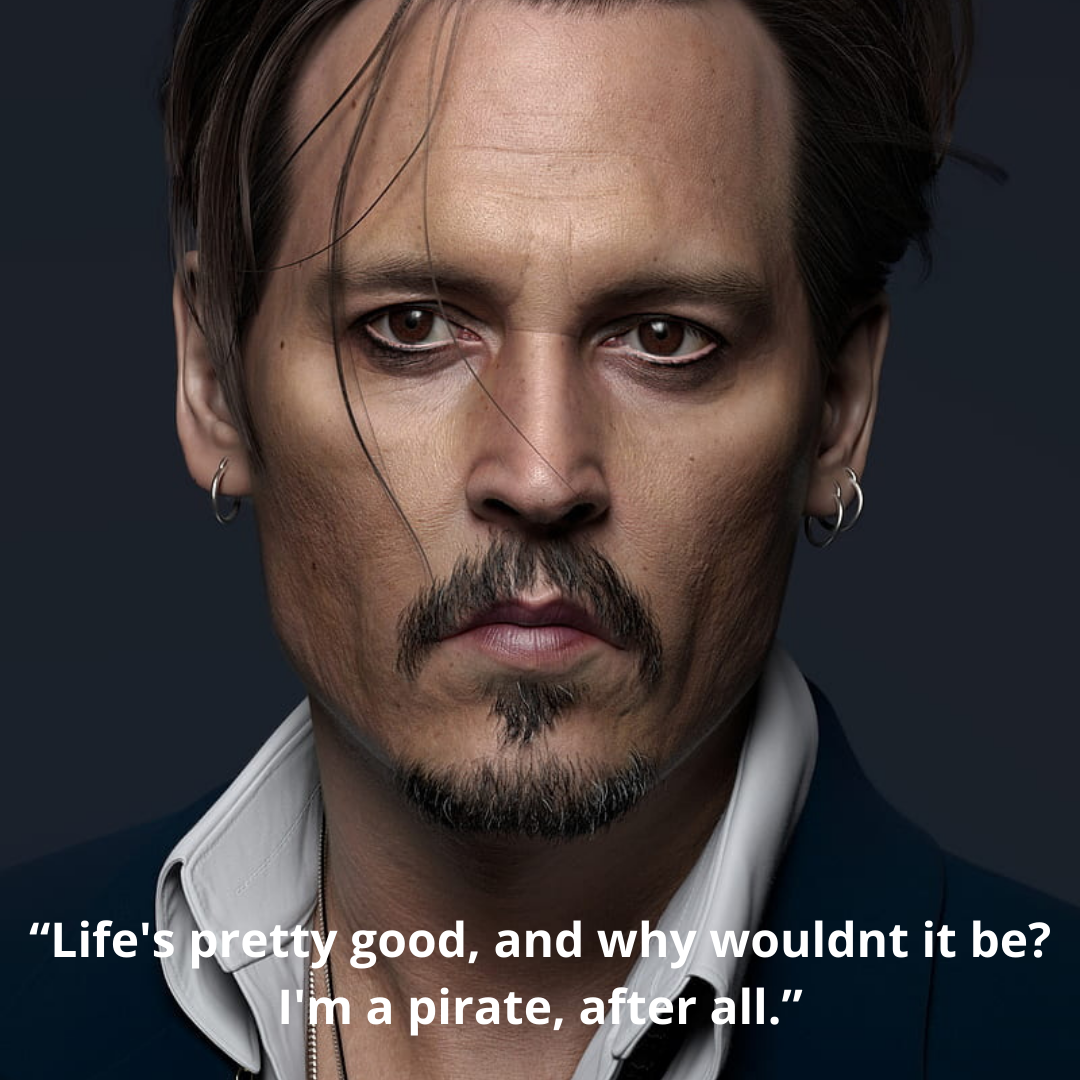 "Life's pretty good, and why wouldnt it be? I'm a pirate, after all."
---
"I always felt like I was meant to have been born in another era, another time."
---
"I am doing things that are true to me. The only thing I have a problem with is being labeled."
---
"I think the thing to do is to enjoy the ride while you're on it."
---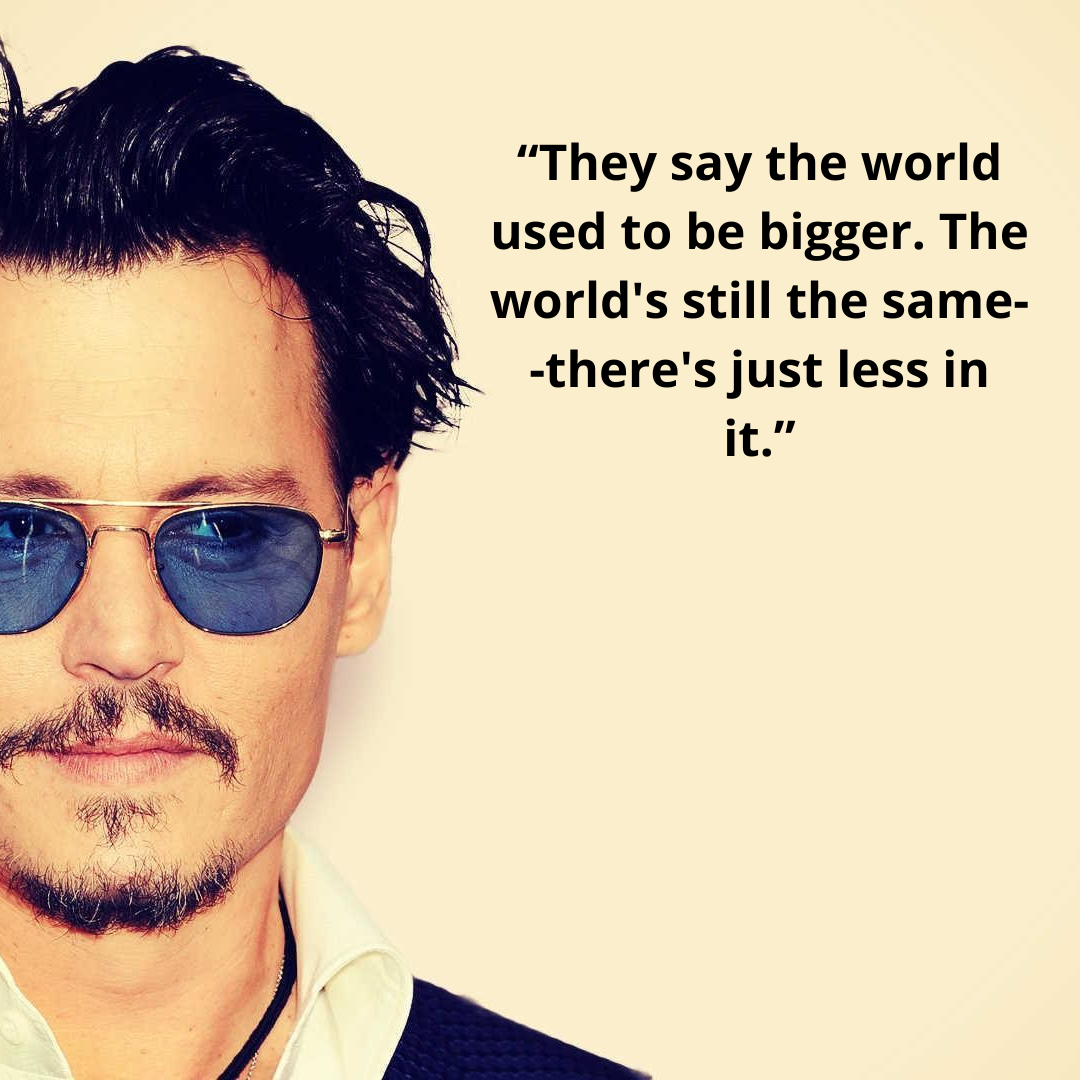 "They say the world used to be bigger. The world's still the same–there's just less in it."
---
"Laugh as much as you breathe and love as long as you live."
---
Quote
"You can close your eyes to the things you don't want to see, but you can't close your heart to the things you don't want to feel." ~ Johnny Depp
"One day, the people that didn't believe in you will tell everyone how they met you." ~ Johnny Depp
"Laugh as much as you breathe and love as long as you live." ~ Johnny Depp
"if you love two people at the same time, choose the second. Because if you really loved the first one, you wouldn't have fallen for the second." ~ Johnny Depp , Johnny Depp quotes on love
"One of the greatest pieces of advice I've ever gotten in my life was from my mom. When I was a little kid there was a kid who was bugging me at school and she said "Okay, I'm gonna tell you what to do. If the kid's bugging you and puts his hands on you; you pick up the nearest rock." ~ Johnny Depp
"I think everybody's weird. We should all celebrate our individuality and not be embarrassed or ashamed of it." ~ Johnny Depp
"Success doesn't change you… It reveals you" ~ Johnny Depp
"We don't always cry because we are weak, sometimes we cry because we have been strong, brave and courageous for way too long." ~ Johnny Depp
"I'm having too much fun today to worry about tomorrow." ~ Johnny Depp
"Love is one of the hardest words to say and one of the easiest to hear." ~ Johnny Depp
"Not all treasure is silver and gold, mate" ~ Johnny Depp
"The only creatures that are evolved enough to convey pure love are dogs and infants." ~ Johnny Depp
"Do what you really want to do. Don't play their game! Don't do what they want. Find your own way." ~ Johnny Depp
"If they let me choose between you and the dog, I'll choose the dog." ~ Johnny Depp
"I know exactly what I want. Everything. Calm, peace, tranquility, freedom, fun, happiness. If I could make all that one word, I would – a many-syllabled word." ~ Johnny Depp
"I don't trust anyone who hasn't been self-destructive in some way, and who hasn't gone through some sort of bout of self-loathing. You've got to bang yourself around a bit to know yourself." ~ Johnny Depp
"Love is not blind; it simply enables one to see things others fail to see." ~ Johnny Depp
"Even when you're down and blue, just remember that someone out there loves you, even if you don't know it and even if you haven't yet met them. There's someone out there waiting for you, remember that and keep faith. You'll get there." ~ Johnny Depp
"If someone were to harm my family or a friend or somebody I love, I would eat them. I might end up in jail for 500 years, but I would eat them." ~ Johnny Depp
"I think the thing to do is enjoy the ride while you're on it." ~ Johnny Depp
"There's a drive-in me that won't allow me to do certain things that are easy." ~ Johnny Depp
"They tell you to be careful because maybe you don't want to meet your heroes. I've met pretty much everyone, and I've never been let down." ~ Johnny Depp
"Every relationship has problems but when those problems arise you have to realize that they don't mean your relationship is broken, it's just a little bent. Bent things can be fixed and like so your relationship can too. The first step however is realizing that." ~ Johnny Depp
"I don't think anybody's necessarily ready for death. You can only hope that when it approaches, you feel like you've said what you wanted to say. Nobody wants to go out in mid-sentence." ~ Johnny Depp
"Most people are really nuts and that's fascinating to me." ~ Johnny Depp
"I try to stay in a constant state of confusion just because of the expression it leaves on my face." ~ Johnny Depp
"I was always fascinated by people who are considered completely normal because I find them the weirdest of all" ~ Johnny Depp
"I always felt like I was meant to have been born in another era, another time." ~ Johnny Depp
"Am I a romantic? I've seen 'Wuthering Heights' ten times. I'm a romantic." ~ Johnny Depp
"School's a weird thing. I'm not sure it works." ~ Johnny Depp
"People in life, when they have a tendency to exaggerate or lie or whatever, you always sort of notice that their voice goes up quite high." ~ Johnny Depp , Johnny Depp quotes on life
"No one wants to go out mid-sentence." ~ Johnny Depp
"Me and music. Music was always my first love. It was my first love for sure. And still is a huge part of my life." ~ Johnny Depp
"People cry, not because they're weak. It's because they've been strong for too long." ~ Johnny Depp
"And it hurts so much to want something you can't have." ~ Johnny Depp
"Music touches us emotionally, where words alone can't." ~ Johnny Depp
"I'm attracted to the extreme light and the extreme dark. I'm interested in the human condition and what makes people tick. I'm interested in the things people try to hide." ~ Johnny Depp
"Keep moving forward and do what you have to do for you." ~ Johnny Depp
"Sometimes I feel like I'm possessed with a multitude of demons." ~ Johnny Depp
"If you fall in love with 2 people at once choose the second one because if you truly loved the first one you never would have fell in love with the second one" ~ Johnny Depp
"I do trust women. I have a lot of women in my life. I have a mother. I have a woman. There's a lot of women around me. And I do trust them. And they trust me, as far as I know." ~ Johnny Depp
"It's important to keep challenging myself and try to come up with some new face every now and again." ~ Johnny Depp
"She's kind of a walking poem, she's this perfect beauty…but at the same time very deep, very smart." ~ Johnny Depp
"If there's any message to my work, it is ultimately that it's OK to be different, that it's good to be different, that we should question ourselves before we pass judgment on someone who looks different, behaves different, talks different, is a different color." ~ Johnny Depp
"I just watched cartoons for three years, and that had a strong effect on me." ~ Johnny Depp
"When I see someone who just follows their dream and succeeds, and just does basically what they want to do and doesn't have to answer to anyone, obviously not harming anyone, that's great." ~ Johnny Depp
"If there is any message to my work, it is ultimately that it's ok to be different." ~ Johnny Depp , Johnny Depp quotes on work
"Any character that you come up with or create is a piece of you. You're putting yourself into that character, but there's the guise of the character. So there's a certain amount of safety in the character, where you feel more safe being the character than you do being just you" ~ Johnny Depp
"I am doing things that are true to me. The only thing I have a problem with is being labeled." ~ Johnny Depp
"Ugliness is better than beauty. It lasts longer and in the end, gravity will get us all." ~ Johnny Depp
"The problem is that everybody treats teenagers like they're stupid." ~ Johnny Depp
"I've been told I smell good. I don't look like I smell good." ~ Johnny Depp
"I would give everything if I could only keep my family." ~ Johnny Depp
"I like the challenge of trying different things and wondering whether it's going to work or whether I'm going to fall flat on my face." ~ Johnny Depp
"I'm an old-fashioned guy… I want to be an old man with a beer belly sitting on a porch, looking at a lake or something." ~ Johnny Depp
"I've never been particularly ambitious. I'm driven by the moment." ~ Johnny Depp
"[on buying a private island] Money doesn't buy you happiness, but it buys you a big enough yacht to sail right up to it." ~ Johnny Depp
"I was poisoning myself with alcohol and medicating myself. I was trying to numb things. I was trying not to feel things, and that's ridiculous. It's one of the dumbest things you can do, because all you're doing is postponing the inevitable. Someday you'll have to look all those things in the eye rather than try to numb the pain." ~ Johnny Depp
"Throughout my lifetime I've left pieces of my heart here and there. And now, there's almost barely enough to stay alive. But I force a smile, knowing that my ambition far exceeded my talent." ~ Johnny Depp
"If you catch me saying 'I am a serious actor,' I beg you to slap me." ~ Johnny Depp
"We're all damaged in our own way. Nobody's perfect. I think we're all somewhat screwy. Every single one of us." ~ Johnny Depp
"My body is my journal, and my tattoos are my story." ~ Johnny Depp
"Every time I stand in front of mirror, I found my face too ugly, so I thought I have to get the role in some movies which cover my face with make-up." ~ Johnny Depp
"I actually tell lies for a living. Exactly. I mean, that's what acting is, really." ~ Johnny Depp
Welcome to our blog! My name is Yuvraj Kore, and I am a blogger who has been exploring the world of blogging since 2017. It all started back in 2014 when I attended a digital marketing program at college and learned about the intriguing world of blogging.