"The Lord of the Rings" is a high-fantasy novel written by J.R.R. Tolkien. It is considered one of the greatest works of literature in the 20th century and has inspired a wide range of adaptations, including films, television shows, and video games. The story follows the journey of Frodo Baggins, a hobbit, and his companions, as they set out to destroy the One Ring, a powerful artifact that can enslave the world if it falls into the wrong hands.
The novel is set in Middle-earth, a fictional world created by Tolkien. It is a world of magic, mythical creatures, and powerful forces, such as wizards and dragons. The story begins with Frodo inheriting the One Ring from his uncle, Bilbo Baggins. The Ring, forged by the dark lord Sauron, has the power to control the minds of those who possess it, and Sauron seeks to use it to conquer Middle-earth.
Frodo, aided by a fellowship of other beings, including Gandalf the wizard, Aragorn the ranger, Legolas the elf, Gimli the dwarf, and others, embarks on a perilous journey to destroy the Ring in the fires of Mount Doom, where it was forged. Along the way, they face many challenges, including battles with orcs, giant spiders, and other monstrous creatures, as well as temptations from the Ring itself.
The Lord of the Rings is a story about the struggle between good and evil, and the power of friendship and love in overcoming adversity. Frodo and his companions represent the best of humanity, with their courage, loyalty, and compassion. They are willing to risk their lives for the greater good, even when the odds are stacked against them. The story also explores themes of power and corruption, as characters such as Boromir, who initially seeks to use the Ring to defend his people, succumb to its influence and attempt to take it for themselves.
One of the reasons why "The Lord of the Rings" has remained so popular over the years is its rich world-building and detailed mythology. Tolkien was a linguist and scholar, and his extensive knowledge of mythology, folklore, and language is reflected in the depth and complexity of his fictional universe. The novel is filled with intricate descriptions of the different races, cultures, and histories of Middle-earth, creating a vivid and immersive world for readers to explore.
In conclusion, "The Lord of the Rings" is a timeless classic that has captured the imaginations of generations of readers. Its themes of heroism, friendship, and sacrifice resonate with people of all ages and backgrounds, and its world-building and mythology continue to inspire fans around the world. Whether you are a fantasy fan or simply looking for a great adventure story, "The Lord of the Rings" is a must-read.
"All that is gold does not glitter, not all those who wander are lost." – Aragorn
---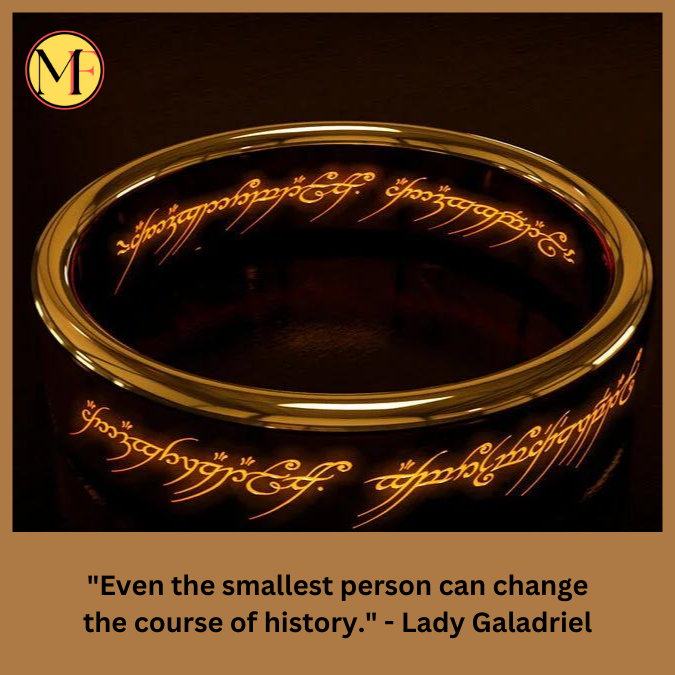 "Even the smallest person can change the course of history." – Lady Galadriel
---
"I will not say: do not weep; for not all tears are an evil." – Gandalf
---
"A hunted man sometimes wearies of distrust and longs for friendship." – Aragorn
---
"Not all those who wander are lost." – Bilbo Baggins
---
"It is not despair, for despair is only for those who see the end beyond all doubt. We do not." – Gandalf
---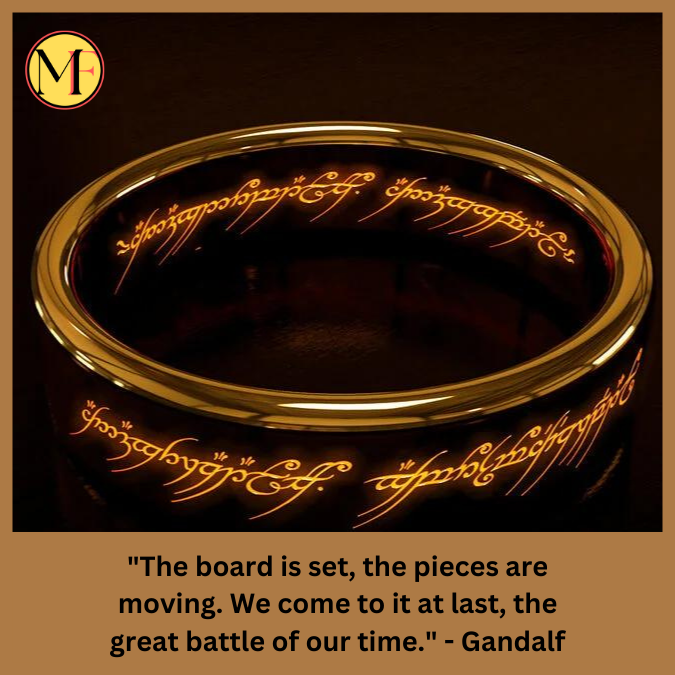 "The board is set, the pieces are moving. We come to it at last, the great battle of our time." – Gandalf
---
"I cannot give you what you seek." – Frodo Baggins
---
"I would rather share one lifetime with you than face all the ages of this world alone." – Arwen
---
"The treacherous are ever distrustful." – Gandalf
---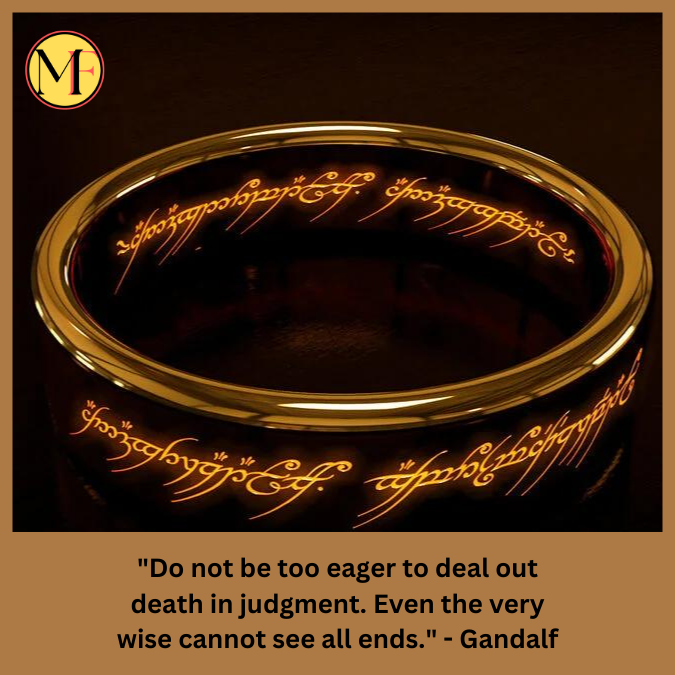 "Do not be too eager to deal out death in judgment. Even the very wise cannot see all ends." – Gandalf
---
"There is nothing like looking, if you want to find something." – Thorin Oakenshield
---
"End? No, the journey doesn't end here. Death is just another path, one that we all must take." – Gandalf
---
"All we have to decide is what to do with the time that is given us." – Gandalf
---
"I am no man." – Éowyn
---
"Fly, you fools!" – Gandalf
---
"I am Gandalf, and Gandalf means me!" – Gandalf
---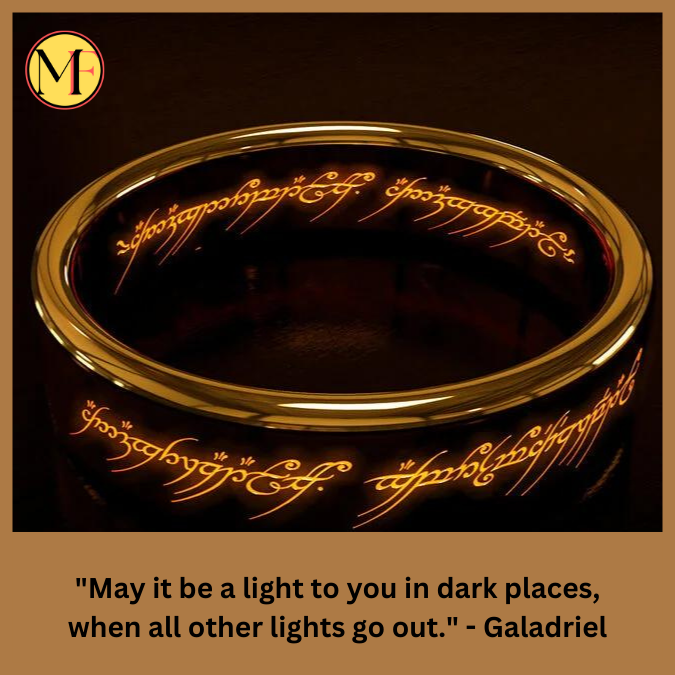 "May it be a light to you in dark places, when all other lights go out." – Galadriel
---
"All we have to decide is what to do with the time that is given us." – Gandalf
---
"The treacherous are ever distrustful." – Gandalf
---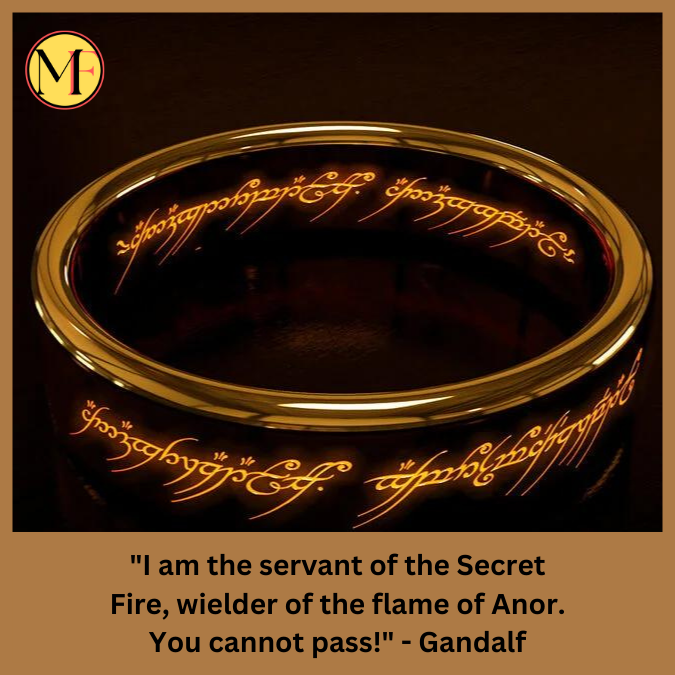 "I am the servant of the Secret Fire, wielder of the flame of Anor. You cannot pass!" – Gandalf
---
"The board is set, the pieces are moving. We come to it at last, the great battle of our time." – Gandalf
---
"All that is gold does not glitter, not all those who wander are lost." – Aragorn
---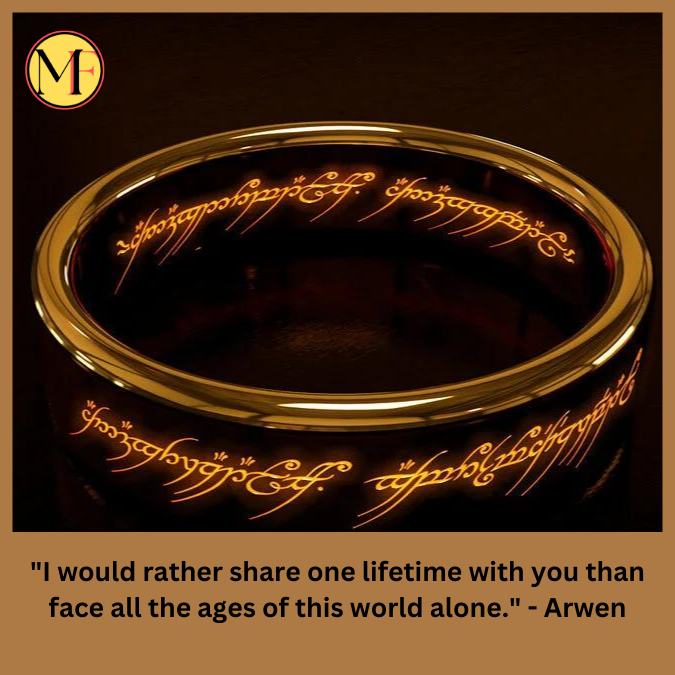 "I would rather share one lifetime with you than face all the ages of this world alone." – Arwen
---
"I am no man." – Éowyn
---
"Not all those who wander are lost." – Bilbo Baggins
---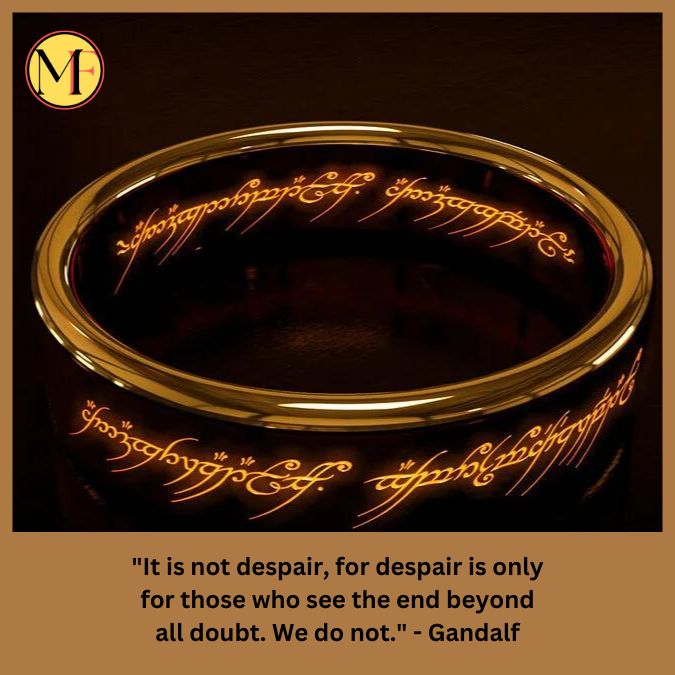 "It is not despair, for despair is only for those who see the end beyond all doubt. We do not." – Gandalf
---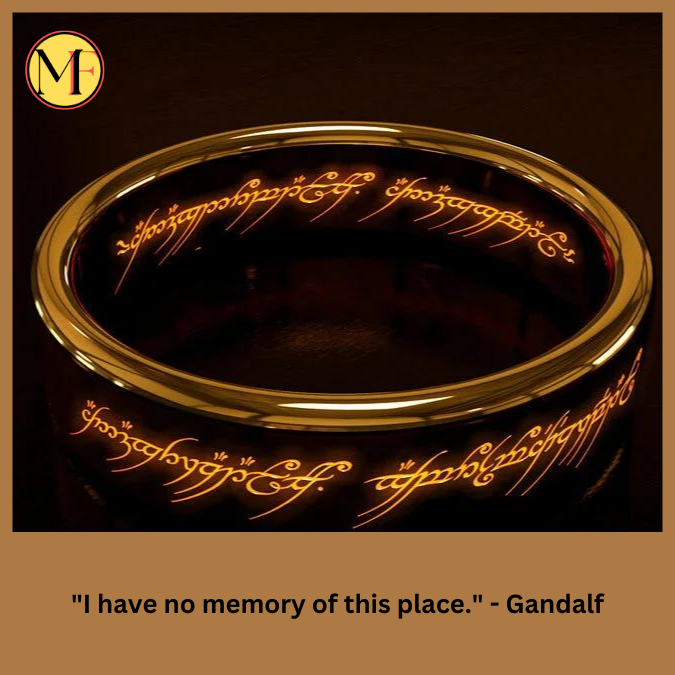 "I have no memory of this place." – Gandalf
---
"I would rather spend one lifetime with you, than face all the ages of this world alone." – Arwen to Aragorn
---
"I choose a mortal life." – Arwen to Elrond
---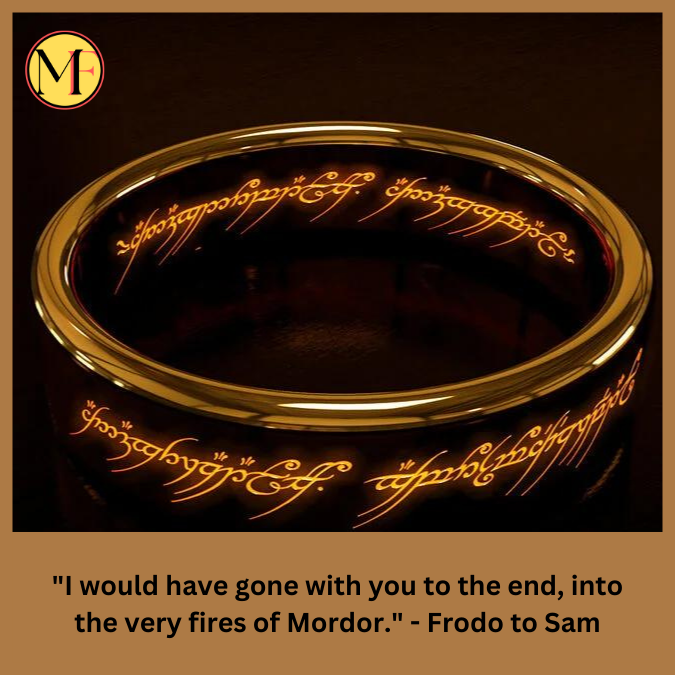 "I would have gone with you to the end, into the very fires of Mordor." – Frodo to Sam
---
"I will not say: do not weep; for not all tears are an evil." – Gandalf to Frodo
---
"You are my king. And I have pledged to serve you." – Legolas to Aragorn
---
"All we have to decide is what to do with the time that is given us." – Gandalf to Frodo
---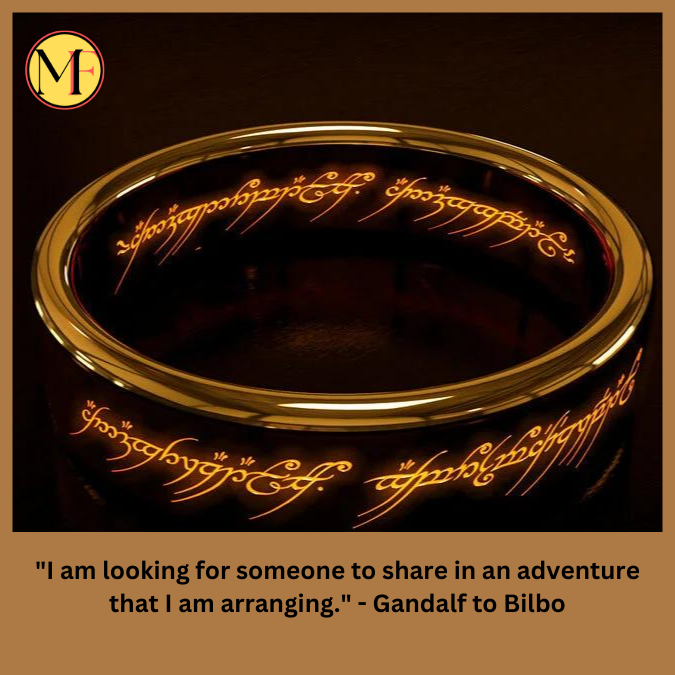 "I am looking for someone to share in an adventure that I am arranging." – Gandalf to Bilbo
---
"The board is set, the pieces are moving. We come to it at last, the great battle of our time." – Gandalf to Aragorn
---
"I have been sent to help you. You shall not pass!" – Gandalf to Balrog
---
"It is not despair, for despair is only for those who see the end beyond all doubt. We do not." – Gandalf to Frodo
---
"Deeds will not be less valiant because they are unpraised." – Aragorn to Éowyn
---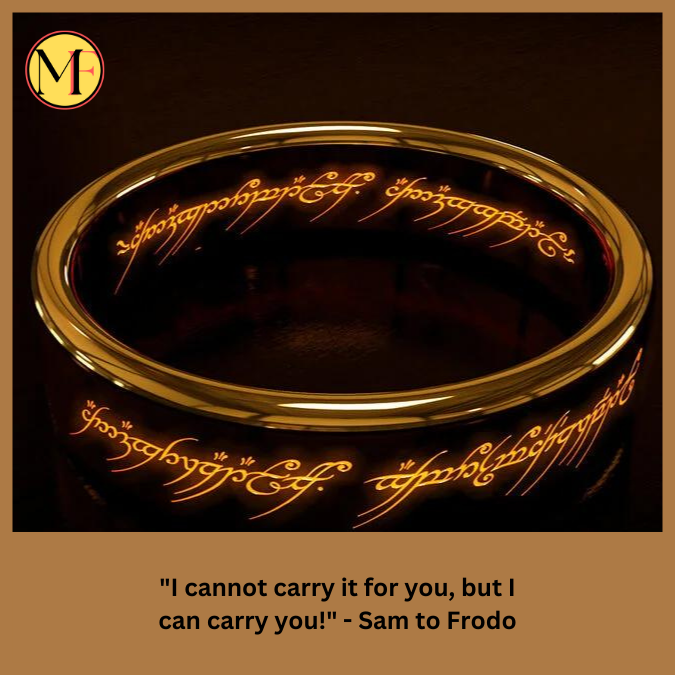 "I cannot carry it for you, but I can carry you!" – Sam to Frodo
---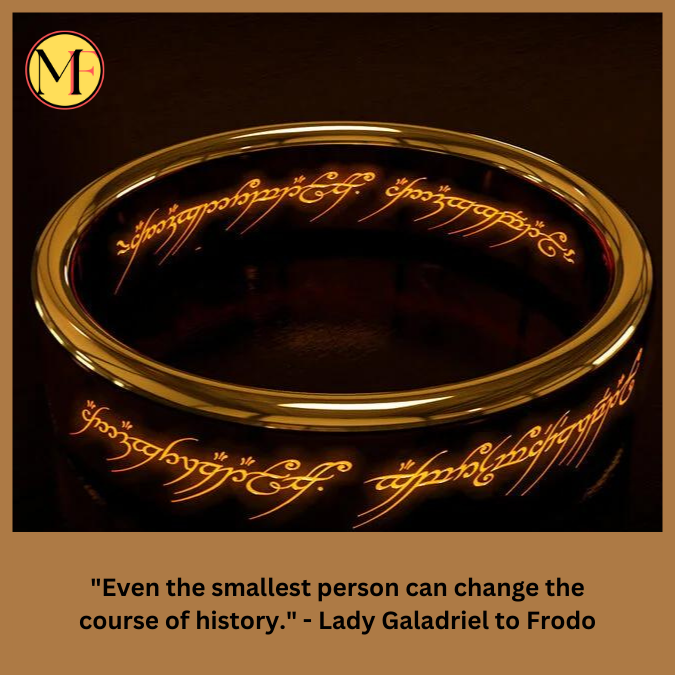 "Even the smallest person can change the course of history." – Lady Galadriel to Frodo
---
"It is the deep breath before the plunge." – Gimli to Legolas
---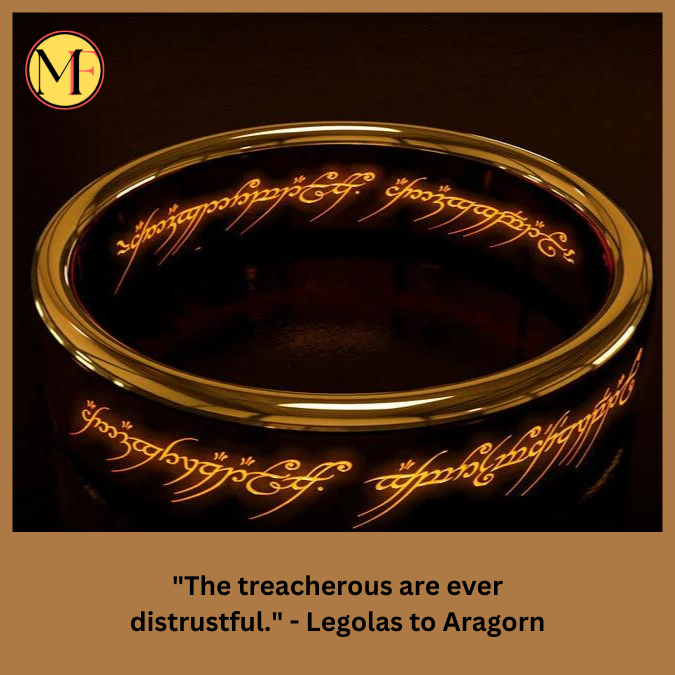 "The treacherous are ever distrustful." – Legolas to Aragorn
---
"I do not fear death!" – Éowyn to Witch-king
---
"I am no man!" – Éowyn to Witch-king
---
"I will not let the White City fall, nor our people fail." – Aragorn to Legolas and Gimli
---
"I cannot give you what you seek." – Gandalf to Frodo
---
"The board is set, the pieces are moving. We come to it at last, the great battle of our time." – Gandalf to Aragorn
---
"Do not be too eager to deal out death in judgment. Even the very wise cannot see all ends." – Gandalf to Frodo
---
"I am Gandalf, and Gandalf means me!" – Gandalf to Balrog
---
"Fly, you fools!" – Gandalf to Fellowship
---
"All we have to decide is what to do with the time that is given us." – Gandalf to Frodo
---
"All we have to decide is what to do with the time that is given us." – Gandalf
---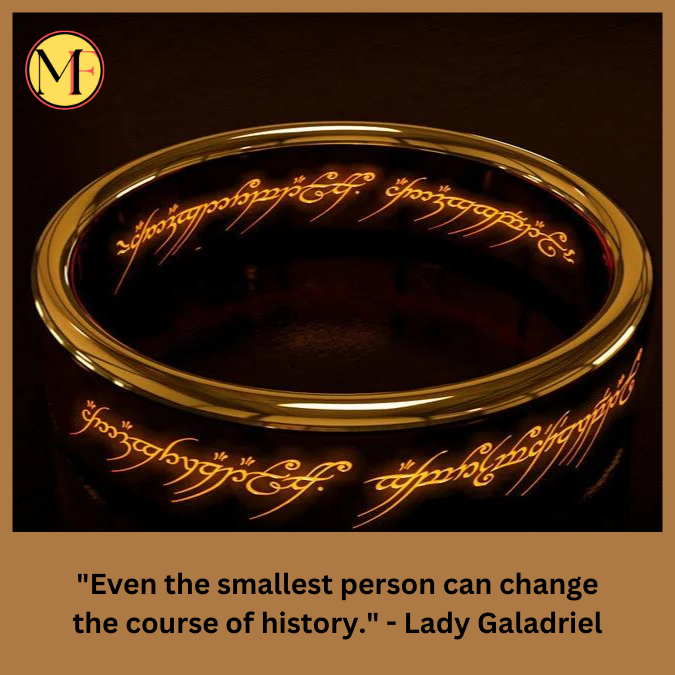 "Even the smallest person can change the course of history." – Lady Galadriel
---
"I will not say: do not weep; for not all tears are an evil." – Gandalf
---
"Faithless is he that says farewell when the road darkens." – Gimli
---
"The board is set, the pieces are moving. We come to it at last, the great battle of our time." – Gandalf
---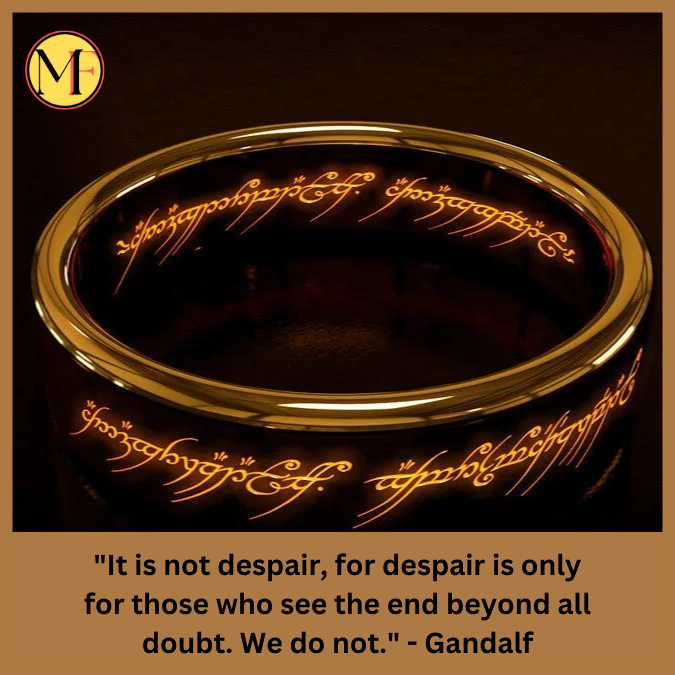 "It is not despair, for despair is only for those who see the end beyond all doubt. We do not." – Gandalf
---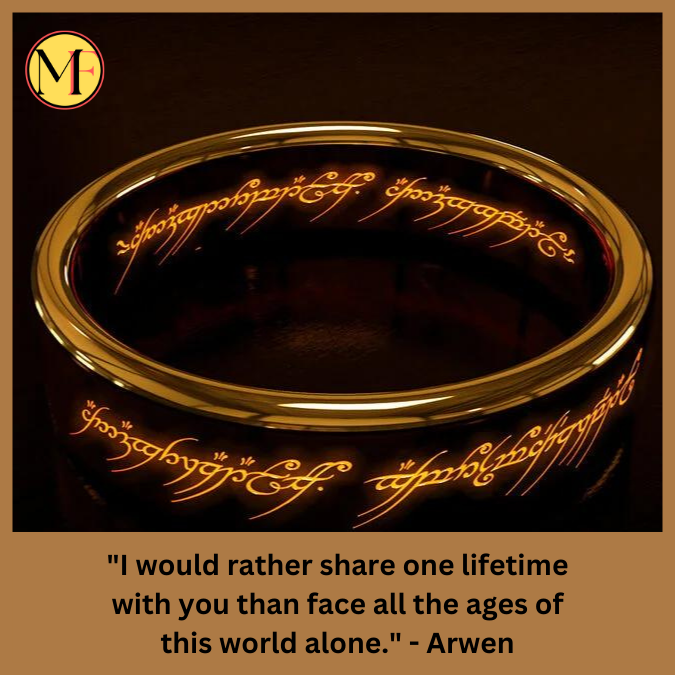 "I would rather share one lifetime with you than face all the ages of this world alone." – Arwen
---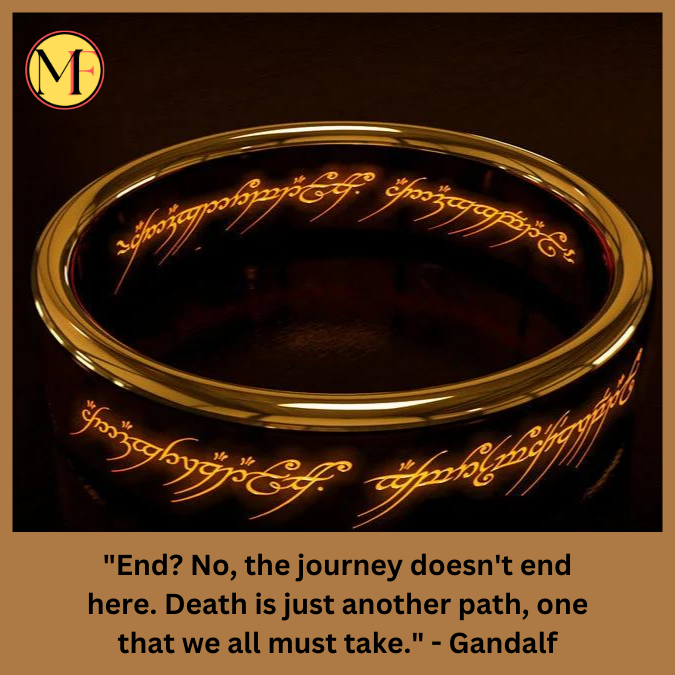 "End? No, the journey doesn't end here. Death is just another path, one that we all must take." – Gandalf
---
"Even darkness must pass. A new day will come. And when the sun shines it will shine out the clearer." – Samwise Gamgee
---
"The treacherous are ever distrustful." – Aragorn
---
"I am Gandalf, and Gandalf means me!" – Gandalf
---
"Deeds will not be less valiant because they are unpraised." – Aragorn
---
"The board is set, the pieces are moving." – Gandalf
---
"I am not a warrior or a king, but who is to say that one cannot change the world with a single act of courage?" – Frodo Baggins
---
"There's some good in this world, Mr. Frodo, and it's worth fighting for." – Samwise Gamgee
---
"All we have to decide is what to do with the time that is given us." – Gandalf
---
"I would rather share one lifetime with you than face all the ages of this world alone." – Arwen
---
"A hunted man sometimes wearies of distrust and longs for friendship." – Aragorn
---
"It's a dangerous business, Frodo, going out of your door. You step onto the road, and if you don't keep your feet, there's no knowing where you might be swept off to." – Bilbo Baggins
---
"The treacherous are ever distrustful." – Aragorn
---
"We must do without hope. At least we may yet be avenged." – Denethor
---
"He who breaks a thing to find out what it is has left the path of wisdom." – Gandalf
---
"Not all those who wander are lost." – Bilbo Baggins
---
"All that is gold does not glitter, Not all those who wander are lost." – Bilbo Baggins
---
"The wide world is all about you: you can fence yourselves in, but you cannot for ever fence it out." – Gildor Inglorion
---
"I amar prestar aen." – "The world is changed."
---
"A Elbereth Gilthoniel." – "Oh Elbereth Starkindler."
---
"Annon edhellen, edro hi ammen!" – "Gate of the Elves, open now for us!"
---
"Mae govannen, Legolas Thranduilion." – "Well met, Legolas son of Thranduil."
---
"Elen sila lumenn' omentielvo." – "A star shines on the hour of our meeting."
---
"Aiya Eärendil Elenion Ancalima!" – "Hail Eärendil, brightest of stars!"
---
"Ú-moe edui, A! Elin síla lúmenn' omentielvo." – "The shadow moves, A! The stars shine upon our meeting."
---
"Ohtaríma, quel kaima." – "Soldiers, what do you see?"
---
"Boe hannon le." – "Thank you."
---
"Man cenich?" – "What do you want?"
---
"Tolo dan na ngalad." – "Come back with light."
---
"Mae g'ovannen!" – "Well met!"
---
"Im Arwen. Telin le thaed." – "I am Arwen. I have come to help you."
---
"Aníron… Undómiel." – "I desire… Evenstar."
---
"Nae saian luume'." – "May the sun shine upon your path."
---
"Ú i vethed…nâ i onnad." – "From the ashes a fire shall be woken…A light from the shadow shall spring."
---
"I amar prestar aen, han mathon ne nen." – "The world is changed; I can feel it in the water."
---
"Lle naa curuvar tielyanna!" – "You shall not pass!"
---
"Aragorn nín… Edhelharn." – "My name is Aragorn… Elfstone."
---
"Tangado haid! Leithio i philinn!" – "Prepare to fire! Loose the arrows!"
---
"Guren bêd enni." – "I have a sword."
---
"Mae govannen, Gandalf." – "Well met, Gandalf."
---
"Orthannen im vióleth." – "I have no pity for those who are dying."